Ep. 32 - Using RSForm!Pro and Salesforce to create new leads
Starting with RSForm!Pro 1.3.0, you can automatically assign the users submited details to your Salesforce.com account as new leads, using the Salesforce Web2Lead plugin
In this episode we will show you, step by step, how to integrate the Salesforce plugin with the RSForm!Pro component.
Step 1:
Download the Salesforce Web2Lead plugin, from Resources >> Customer Downloads (you need to access first your RSJoomla! account).
Step 2:
Install the Salesforce plugin using the default Joomla! installer.
Step 3:
Head to the "Manage forms" tab and select the form that you want to integrate with Salesforce.
Step 4:
Add Salesforce fields: the supported fields are the ones available in the Salesforce plugin - first name, last name,lead source, title, company, email, phone, street, city, state and zip.
Step 5:
Head to the Salesforce Integration tab from the "Manage forms" area and configure the plugin (see the video).
Step 6:
After the form submissions, the user data are passed to your salesforce.com account.
Step 7:
If you have activated the "Debugging" option from the Salesforce plugin, you will receive an email each time a new lead is created. You'll find these leads in your Salesforce account, "Leads" tab.
Comments
Related Videos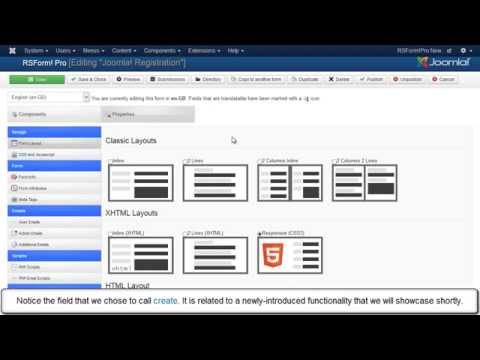 Ep. 59: How to create custom Joomla! registration forms ...
The integration between RSForm!Pro and the Joomla! user registration allows you to use custom forms during the registration process. This video tutorial explains step by step, how to install and configure the RSForm!Pro - Joomla! user...
read more