Ep. 25 - How to add Paypal functionality to your Joomla! forms using the RSForm!Pro Paypal Plugin
Before we begin, please note that the following explanations, along with the video tutorial, are only available for the RSForm!Pro Joomla! 1.5 PayPal plugin. For more information and a video tutorial on how to implement a PayPal functionality to an RSForm!Pro form on Joomla! 2.5 and 3.x (using the New Payment Package), please view RSJoomla! TV ep. 80.
In this episode we will show you the required steps to turn your Joomla! forms created with RSForm!Pro into a small shopping cart, using the RSForm!Pro PayPal plugin . The example uses the Multiple Products field and a Dropdown to list the products.
We recommend using the PayPal Sandbox mode to test the shopping cart functionality.
Another example of using the Multiple Products field (screenshots included too) you'll find in the second part of the article 3 ways to create a small Joomla! shopping cart with RSForm!Pro and PayPal
Step 1:
Download the RSForm!Pro Plugin from your RSJoomla! account -> Resources -> Customer Downloads -> RSForm!Pro files -> Plugins -> PayPal Plugin.
Step 2: Install the PayPal plugin
In the Joomla! backend administrator panel, head to Extensions >> Install/Uninstall.
Step 3: Configure the plugin
Once you have installed and enabled the plugin, go to Administrator » RSForm!Pro » Configuration and configure the plugin.
Step 4:
Once you have configured the plugin, you'll notice in the "Manage forms" tab 3 new PayPal fields: Single Products, Multiple Products and Total
Step 5:
Add the Multiple Products and the Total field.
Step 6:
In the last part of the video, we will show you how to test the PayPal plugin using a Sandbox PayPal account
Comments
Related Videos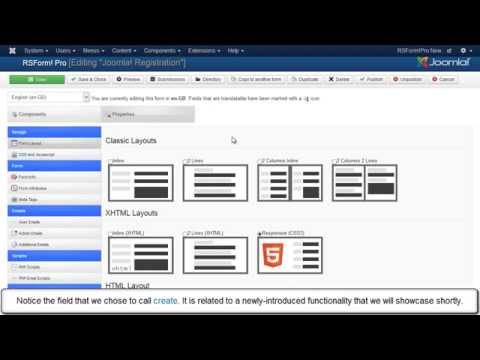 Ep. 59: How to create custom Joomla! registration forms ...
The integration between RSForm!Pro and the Joomla! user registration allows you to use custom forms during the registration process. This video tutorial explains step by step, how to install and configure the RSForm!Pro - Joomla! user...
read more