Ep. 39: Create newsletter subscription forms with RSForm!Pro and RSMail!
In this video, you'll learn how to create custom subscription forms with RSMail! and RSForm!Pro.
Suppose you have created a subscription form to collect data from your subscribers: First Name, Last Name, Company, Job title , etc. Upon the form submission, the user is added to a configured RSMail! list, along with the submitted data. The integration is done via the RSForm!Pro - RSMail! plugin.
Download and install the RSForm!Pro - RSMail! plugin
1. Access your www.rsjoomla.com account and download the RSForm!Pro - RSMail! Plugin from "View my downloalds" >> RSForm!Pro membership >> Downloads >>
Plugins >> RSMail! plugin
.
2. Install the RSForm!Pro - RSMail! plugin through the default Joomla! installer.
3. Publish the plugin from the "Extensions > Plugin Manager" area.
Integrate the subscribing form with RSMail!
1. Head to RSMail! >> Lists and create a new subscribers list.
2. Add some list fields.
3. Head to RSForm!Pro >> Forms >> click on your form >> Properties >> RSMail! Integration tab
4. Select the subscribers list and map the form components with the list fields.
5. Select the action that you want the form to perform when being submitted. You can choose betwenn "Subscribe", "Unsubscribe" or to "Let the user decide". Note that if you choose to let the user decide which action is to be taken you must map a form field that has the subscribe and unsubscribe values set.
In frontend:
Users are subscribed to a newsletter list after submitting the custom form.
In backend:
The new subscriber is saved in the RSMail! list.
Comments
Related Videos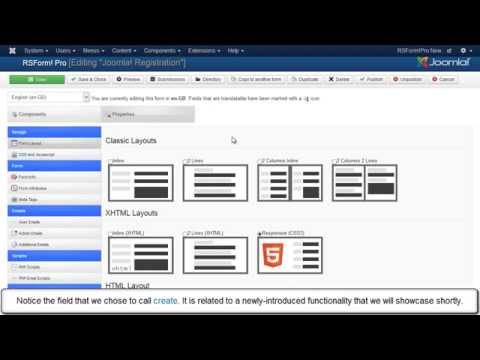 Ep. 59: How to create custom Joomla! registration forms ...
The integration between RSForm!Pro and the Joomla! user registration allows you to use custom forms during the registration process. This video tutorial explains step by step, how to install and configure the RSForm!Pro - Joomla! user...
read more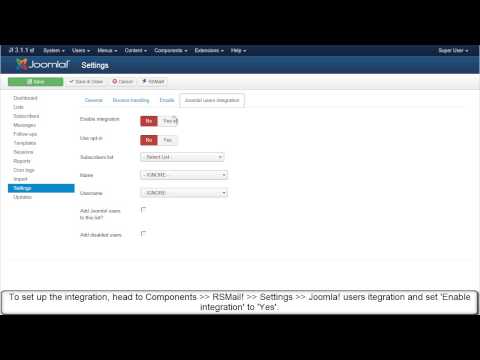 Ep. 70: RSMail! integration with the default Joomla!...
RSMail! allows you to automatically pass users data from the Joomla! registration form to a subscribers list. The integration is done via the built-in RSMail! plugin. Step 1: create an RSMail! mailing list In the Joomla! backend...
read more