Ever wanted to send notifications / emails to your subscribers after a certain period since they subscribed to your memberships? You're in luck as an integration between RSMembership! and RSMail! is available, allowing you to follow-up on your interested audience.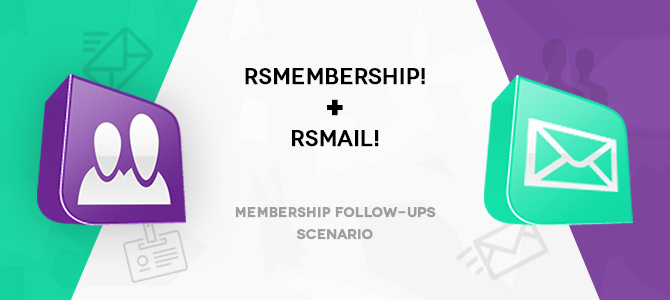 Intro
---
The RSMembership! - RSMail! integration plugin allows users that subscribe to your memberships to be silently subscribed to a mailing list of your choosing. This is useful as you can further send out newsletters or any type of on-demand notifications to your users.
Further to this, RSMail! provides a follow-up feature that allows setting up a collection of email messages that are triggered in a configurable time-frame manner that best suits you or your business.
Workflow
---
All our extensions are designed to work using the standard Joomla! framework. When a user is added through the membership subscription process, the above mentioned integration will detect this, add the user to your newsletter list and, since the user has been added within RSMail!, the follow-ups schedule kicks-off as well.
What's so special about Follow-ups you may ask? Well... each subscribed user is independently treated. For example, let's assume you set the follow-up to send two emails (first email after 1 week, second email after 1 month). Users subscribed today, will get the first email after exactly 1 week, while users subscribing on a later time, will get this email after 1 week since they subscribed (useful for scenarios where you want to appraise your users fidelity and send them discount coupons after a specific time has passed).
It's important to know that RSMembership! provides it's own emails, each with their own triggers that can be individually configured on your memberships (the documentation section provides more details on this). One of these emails, 'Expiration Notify Email', is sent to the subscriber when the membership is about to expire before a predefined period of time.
Setup
---
In case you haven't already done so, you'll need to install RSMembership!, RSMail! and the RSMembership! - RSMail! integration plugin. All of these are normally installed through the default backend Joomla! installer. Afterwards, you can follow these steps:
ensure that the RSMembership! - RSMail! integration plugin is enabled (check it via Plugin Manager).
create a newsletter list. You can add various fields to capture information on your subscribers.
create a membership.
add custom fields to your membership (optional).
while editing your membership, access the RSMail! integration tab.
map RSMembership! custom fields you want to pass to RSMail! (optional).
create a follow-up.
That's basically it! This will now follow the workflow previously described.
RSJoomla! Community
---
You can shape the future RSJoomla! development! Feedbacks can be added here, and you can join the community forum area to discuss your opinions.
How to get it
---
Access to the downloads section of RSMembership! or RSMail! is granted to users that own an active subscription. If you are in need of a subscription, you can purchase one from the product page - RSMembership!, RSMail!.