The new RSForm!Pro revision comes with major improvements and new add-ons such as CSS3 responsive layout and the PDF plugin. Also we have created an integration with the vtiger CRM.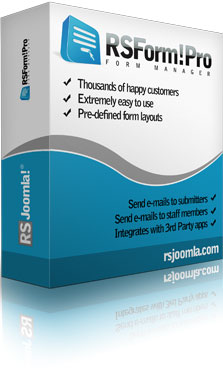 Good looking forms on any device and browser with responsive layout
The responsive layout is a technique using CSS3 that adapts the form layout to the viewing environment. The result is that users can properly see and fill the form in a broad range of devices and browsers without the need of resizing or zooming in. You can see in the video below an example of how the form adapts to a variable screen resolution.
Just select the "Responsive (CSS3)" layout from the Form Layout section and your form will change its layout automatically depending on the device resolution.
Built-in ability to do silent posts
This feature comes as a request of many users that want to send the submitted data to 3rd party applications and services automatically.
A new screen has been created in the Properties tab, under the Extras section named "Post to Location (Silent Post)" which will allow you to send the data that users fill in your form to other URLs using the GET or the POST method.
You can also choose whether to post this information silently or to be redirected to the 3rd party service after submitting the form.
PDF plugin

The long awaited PDF generation plugin is here. It is designed to generate PDF files that include submission information. The PDF files can then be attached to the built-in User and Admin e-mails or published on the website using our RSForm!Pro List Submissions Module.
You can read the whole article related to the PDF plugin here.
vtiger plugin

The vtiger Plugin allows integration between RSForm!Pro and the vtiger.com Webservice (Leads). The integration is done silently while running in the background, so the user (form submitter) will not notice anything in the frontend.
You can read the whole article related to the vtiger plugin here.