Ep. 79 - How to specify the canonical version of a Joomla! page to prevent duplicate content
In Joomla!, a page content can be accessed through different URLs. This causes duplicate content issues, which can be solved by specifying the canonical (preferred) version of a page.
Step 1:
First, access the RSSeo! "Pages" tab.
In our video tutorial, we've taken as an example the "Joomla! Community" pages. There are 3 different URLs that point to the same content. The canonical (preffered) URL used across the site is the SEF version.
Note: you can pick any URL version you wish as canonical, but make sure that you link consistently within your site.
Step 2:
We will add in the header of each non-canonical page rel="canonical" pointing to the sef version.
Edit the non-canonical page and add its preferred version.
In our example, the canonical (preferred) URL is the sef version.
Notice that the non-sef URL will have as canonical the SEF version.
Source code:
Let's see the source code of the non-canonical page.
RSSeo! has included in the head of the non-canonical page:
This indicates to search engines that the preferred URL of this page is the sef version.
The process repeats for all the other URLs, except for the SEF version.
There's no need to add the canonical element in the SEF version of the page
Comments
Related Videos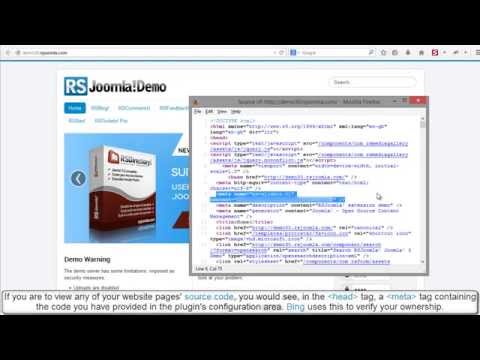 Ep.19 - How to verify Joomla! site ownership for Bing with...
Bing requests verifying the site ownership when submitting a sitemap to the Webmaster Account. RSSeo! allows you to verify the site ownership, directly from the backend Joomla! administrator panel for major search engines . In this episode we will...
read more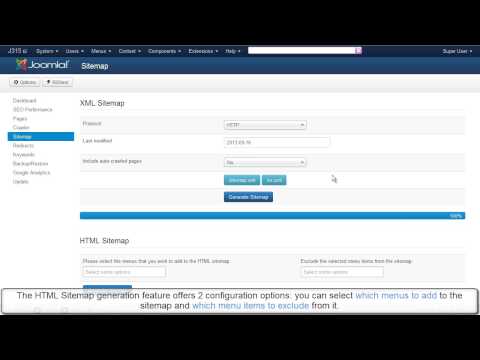 Ep. 72: How to generate HTML sitemaps in Joomla! using...
RSSeo! allows you to create 2 types of sitemaps: XML and HTML. In this episode, we will show you how can you create HTML sitemaps using RSSeo!. The HTML sitemaps can act as a navigation aid by providing an overview of a site's...
read more