Ep. 13 - Optimize meta keywords and meta description for each Joomla! page with RSSeo!
In this tutorial, we'll be using RSSEO! - the SEO suite for Joomla! to optimize the meta description and meta keywords of each Joomla! page.

Once you have crawled the website, you will be able to add meta tags to ALL Joomla! pages.
Let's see how simple it is to add meta tags to ALL Joomla! pages with RSSEO!
Step 1:
In the Joomla! backend panel, head to Extensions >> Install/Uninstall and Install RSSeo!
Step 2:
Head to RSSeo! >> "Crawler" tab and click on the "Initialize crawler" link.
Step 3:
Choose the crawler level: you can set the this from 1 to unlimited.
Step 4:
Once you have crawled the site, ALL Joomla! pages will be displayed in the RSSeo! "Pages" tab.
Step 5:
From the RSSeo! Pages tab, you can optimize all Joomla! pages: you can add meta keywords, meta description, change title tag, etc.
---
---
Related Videos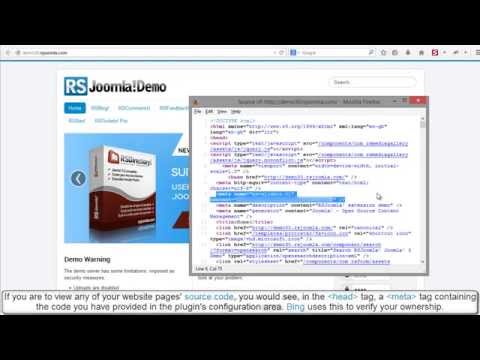 Ep.19 - How to verify Joomla! site ownership for Bing with...
Bing requests verifying the site ownership when submitting a sitemap to the Webmaster Account. RSSeo! allows you to verify the site ownership, directly from the backend Joomla! administrator panel for major search engines . In this episode we will...
read more