Ep.15 - Enable canonicalization for your Joomla! website with RSSeo!
Canonicalization refers to different links that point to the same content. RSSeo! allows you to automatically set redirects from the non-www domain to www domain or viceversa, by enabling the canonicalization option, via the "RSSeo! System Plugin".
How to enable site canonicalization with RSSeo!
Step 1:
The canonicalization is enabled from the RSSeo! system plugin. The plugin can be accessed from Extensions >> Plug-in Manager.
Step 2:
Enable the canonicalization option form the plugin parameters, basic options area.
Step 3:
Once you have enabled the canonicalization, add the preferred domain version - with or without "www"; for example when you want to set a redirect from mydomain.com to www.mydomain.com type www.mydomain.com
---
---
Related Videos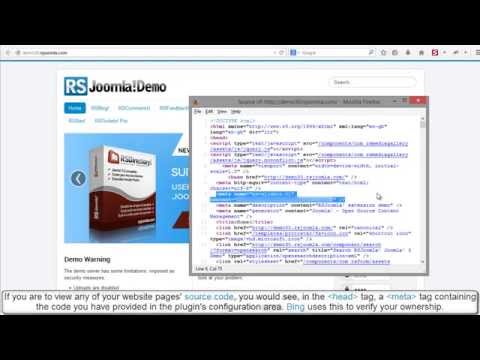 Ep.19 - How to verify Joomla! site ownership for Bing with...
Bing requests verifying the site ownership when submitting a sitemap to the Webmaster Account. RSSeo! allows you to verify the site ownership, directly from the backend Joomla! administrator panel for major search engines . In this episode we will...
read more