Improved submission editing for Calendar and Date and Time Picker fields
One of the most common requests during the submissions editing process was to have regular calendars displayed instead of normal textbox fields, similar to how the initial submission was made. You asked and we delivered, starting with version 2.3.10 of RSForm!Pro you can easily change the submitted dates using the same type of calendars as during the initial submission. The Date modifiers configured for your fields will also be applied during the editing of the submission.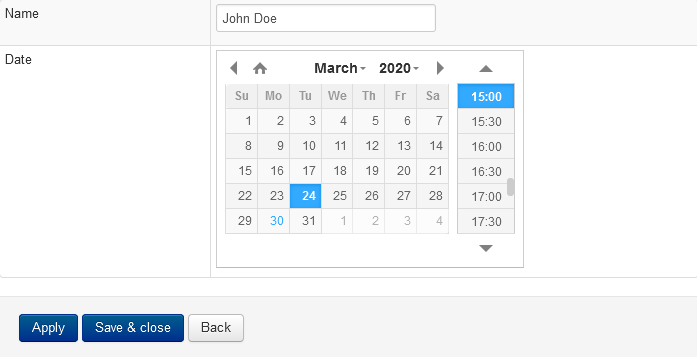 Advanced Form Fields plugin gets a new field - Date Picker
Our Advanced Form Fields plugin received a brand new Date Picker field. The main features that set this field type apart from the rest of the calendars available in the component are:
Is ARIA-enabled to be WCAG 2.0 compliant.
Has touch & keyboard friendliness.
An increased flexibility for controlling the dates that you can select in your form. You can disabled all calendar dates, only specific weekedays or set date intervals.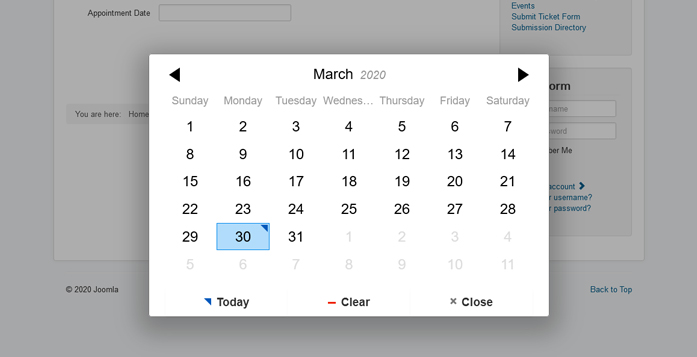 You can read more about this powerful calendar in our online documentation.
The PagSeguro integration receives an update
Various improvements have been applied to this payment gateway integration, just to name a few of them:
the PagSeguro PHP Library was updated to 2.7.1
you can now map information regarding the buyer through the newly added PagSeguro configuration section
transaction parameters can be modified through: RSFormProPagSeguro::getInstance()
the transaction currency is now set from the general configuration, Configuration - Payment - Currency, instead of being hardcoded to BRL
if the integration is not configured properly, error messages will be shown in order to help the debugging process
But this is not all...
In the Manage Forms and Manage Directories sections you can now search for a specific form based on the form id. You will need to use the prefix "id:", then add the id of the form you wish to find.
You can now easily limit the number of submissions a particular form can record without needing any custom scripting. Just head to the Form info section and set the submissions limit in the Limit submissions field. After the configured number of submissions is reached, the form will be replaced by a simple message informing the user that the form no longer accepts submissions.
You can access the full changelog for this new version or make a new purchase below.