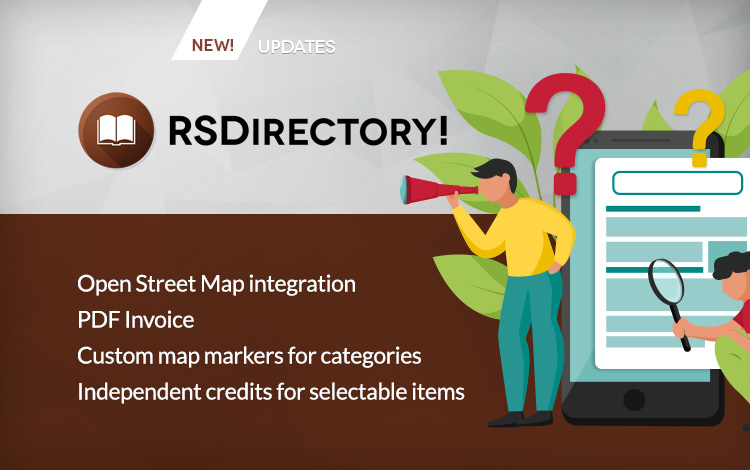 The new version of RSDirectory! is here!
What are the main features?
Independent credits for selectable items
In the new version you can now set independent credit costs for each item available in a Dropdown, Radio group or Checkbox field.
Example:
Item 1[c-10]|10 credits - if user choose 'Item 1' value, then 10 credits will be charged
Item 2[c-20]|20 credits - if user choose 'Item 2' value, then 20 credits will be charged
Item 3 - if user choose 'Item 3' value, then the default credits set within the 'Credits' area will be charged
Multiple map services
Since the Google Map service is no longer free, we have respected the demands of our clients and included another map service, more precisely the OpenStreetMap service, which is free.
You can easily change the map service by heading to Components > RSDirectory! > Maps tab and using the "Select Map Type" option.
The API Key or the Access token required for the map service can be generated by following the instructions provided in our documentation page.
Custom map markers for the categories
You can now set a different marker for each category available for your entries.
This can be set by heading to Components > RSDirectory! > Categories > editing your category and using the "Map Icon" file upload field.
PDF Invoice
The latest version introduces a new invoicing feature, now for every credits purchase you can download an invoice in PDF format.
If the Invoice is enabled and configured, when 'My account' menu item is accessed a new column will be displayed into the 'Transactions' tab where users can download invoices for every transaction.
PayFast Integration
The RSDirectory! PayFast Payment Integration Plugin allows your users to pay for credit packages using PayFast payment processor.
Many other features
For a complete list of features introduced by the new version of RSDirectory!, please check the component's documentation or changelog page.
---