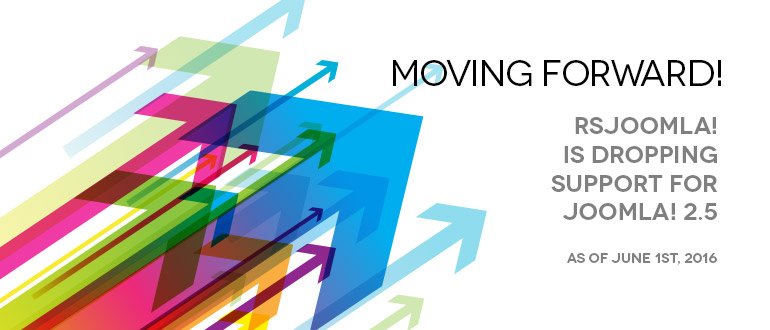 Just as stated in the last Joomla! 2.5 release, Joomla! 2.5 completed its projected lifespan (back in December 2014 actually) and it's time to move on to the newer and better version: Joomla! 3.5 (the stable version is expected to be released at the end of February 2016).
​
We know that migrating from one Joomla! version to another is not exactly a walk in the park, and that's why we've been providing support for 2.5 for a long time beyond it's life span. When we announced that we will drop support for Joomla! 1.5 extensions, we mentioned that Joomla! 2.5 will be supported until 1st of January 2016, but we will continue to be there for you and offer support for 2.5 extension versions until 1st of June, 2016.
What will happen starting the 1st of June, 2016?
Implications of dropping support for the 2.5 versions of our extensions:
We will not release any more extension updates for Joomla! 2.5, which means no more features or security updates. Our advice is to that you update your Joomla! CMS and RSJoomla! extensions to the latest versions available in order to benefit from the latest features and improvements implemented.
Don't worry, the Joomla! 2.5 extension versions that you installed from us will continue to function just as they did before. But support for the Joomla! 2.5 versions of our components, modules and plugins will stop being available.
​
Extension updates will be optimized for Joomla! 3 but we will try to maintain minimum Joomla! 2.5 compatibility where possible (until the 1st of June). The installer will make a few checks in terms of determining if the update can be applied on your Joomla! installation.

Important: You should always read the changelog carefully and make a complete backup before making any modifications to your live site.

​
Our extensions are already optimized for Joomla! 3 (the templates that we have released, starting with RSFedra! were created to be compatible only with Joomla! 3.x from the get go) and will continue to be optimized for newer versions, thus they will look seamlessly in Joomla! 3.x installs.
​
PHP minimum requirements will be bumped up to 5.3.10 The reason? PHP 5.2, which was set as a minimum requirement for most of our extensions and templates, has reached its planned lifespan about... 5 years ago! Hosting providers had plenty of time to make the necessary updates and adjustments. By 1st of June 2016 RSJoomla! will adopt as minimum requirement PHP 5.3.10
​
Tip: If you are not planning for a Joomla! migration any time soon, it would be best to make a download backup for all RSJoomla! goodies.
​
If you want to find out what's new in the next Joomla! 3.5 release you can do so here: What's new in Joomla 3.5
​
For those of you who are considering a Joomla! migration, you will be pleased to find out that this won't cause as many headaches as a migration from Joomla! 1.5 to 2.5. Caring for its users, Joomla! has evolved in such a way to facilitate easy migration from from one version to another: Joomla 2.5 to 3.x Step by Step Migration
​
Note:
Expired subscriptions can be renewed with a
30% discount
(this discount is applied automatically).