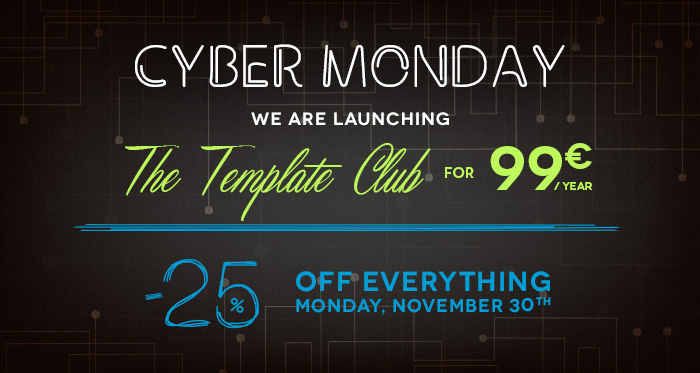 For Cyber Monday we've prepared something really special, something that we've promised earlier this year in this article: RSJoomla! 2014 Overview and 2015 Promise
If you're thinking Template Club, you're right! You waited a long time for this one and we are pleased to inform you that we made sure our Template Club was worth the wait!
It includes all current and future responsive templates and a 12 months multi-site RSMediaGallery! extension subscription - all for the price of 99 Euro. (See Template Purchase page)
Is that all? Of course not!
You also get 25% off all Extensions and Templates just on Cyber Monday (1 December 2015) until 23:59 hours UTC+3.
Browse the Joomla! Extension List and our Responsive Template Designs to get yours with 25% off on Cyber Monday !
More good news:
No coupon code required. As long as the promotion is available, the discount will be applied automatically. It has never been so simple!
Enjoy the best opportunity to have premium products at the lowest price.
The discounts are applied for new purchases, not license renewals.
Have a cyber-tastic Monday!