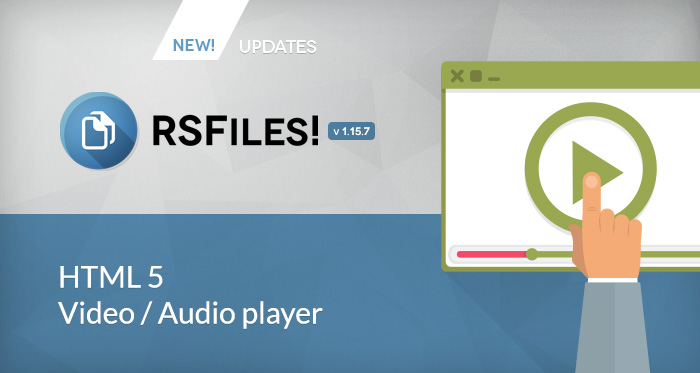 A new website for RSJoomla! doesn't mean that we'll be slacking in terms of extension development. No no! Check out the new features and improvements that we have prepared for RSFiles!, our secure and versatile Joomla! download manager.
HTML 5 Video / Audio player
Being tired of various vulnerabilities, both Google and Mozilla announced that support for flash players will be dropped. Of course, this affected RSFiles! as well as it was still using a flash based player.
For those of you who are less familiar with this, RSFiles! is able to store a preview for each downloadable item. Regardless of the file type, you can associate audio or video files. For more details on this, please check out the "How to play audio or video files?" article.
So what is changed in RSFiles?!
Upload related improvements
Media content was not the only area where RSFiles! was using Flash. It was being used within the upload process as well and that's why we switched over to a jQuery upload instead.
Also, large uploads won't be problematic anymore either. We introduced a chunked upload method too.
Other improvements
New group permission: edit / delete own uploaded files
For iOS lovers, uploading multiple images in one go won't cause issues anymore
Added another bulk action: reset statistics.
Note:
Expired subscriptions can be renewed with a
30% discount
(this discount is applied automatically).