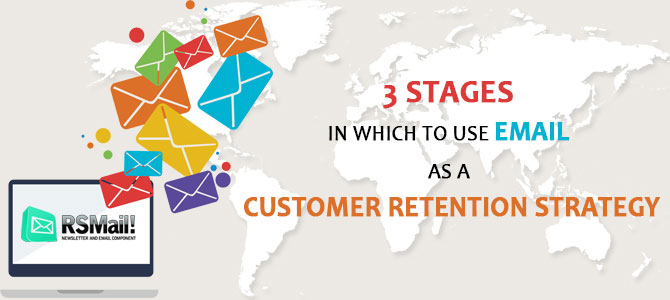 In order to gain new clients and loyalize them your must communicate with them regularly as a business, just like you keep in touch with your family and friends as an individual. As proved over the years, the most effective way to communicate with clients is via email and we are going to explain why. Emails are not intrusive for the receiver and depending on the time of contact, emails can be specially catered so that they bring maximum results.
In the following, you have a simple breakdown of email types you should be sending according to the stage the customer is in:
Introductory and checkout stages
Promotional and sale stages
Tracking stage
First of all, what is a newsletter? For those that are starting to get serious about email marketing, there is a tendency to call many email communications a newsletter. Although this is not incorrect, because well.. everything that you send out is news to your readers, it still helps to differentiate between types of email so that every person in your team is on board with how it should be constructed, what it needs to contain.
Here we go:
1

Introductory and checkout stages

In this category we can include notification emails, dedicated email and transactional emails. This type of email is sent out automatically when the receiver executes a certain action like subscribe to a blog, buy a product, send an email to a department in the company and so on. Your interests here are: to build habitual communication between your company and clients and to take advantage of the high click-through rate (CTR) these emails get by including a highly customised call to action (CTA).
Examples:
Email for double-opt in with account confirmation link.
Welcome email after registration, your chance to build credibility and trust.
Shopping Cart Abandonment email to remind and get the client back.
Goods back in stock email.
Order shipment confirmation.
Payment confirmation.
Tip: You can use email solutions to automate and optimise your internal communications or updates, building your brand image by starting from inside your company.
2

Promotional and sale stages

The emails in this stage are new product or promotional emails, product advice and educational emails. These types of emails are basically marketing emails and they contain information and incentives in order to determine the receiver to take certain action like follow a link for more information, purchase something on enter a partnership. Your interests here are: to build brand image, loyalty and to cross-sell and upsell.
Examples:
Co-marketing emails, in which to associate your company with an impressive known enterprise.
Birthday or anniversary email, rewarding loyalty.
New product or Sales/promotions announcements.
Tutorial on how to use the products and advice on how to combine them with other products.
3

Tracking stage

In this stage the emails you will encounter will be reminder emails, testimonial or survey email, sponsorship and event invitation emails. These emails are determined by the end of the sales stage; after a customer gets a product they purchased or when a relationship between the client and your company is well defined. Your interest in this stage is to: make sure the sale gets closed and to gather valuable information from your clients that you can use in the future to bring them better services and peek the curiosity of other potential customers.
Examples:
Email to remind customers of an invoice.
Event invitation emails.
Sponsorship emails, you pay for inclusion of your copy in another vendor's newsletter or dedicated send.
Email to ask for a review.
And one more thing…
Target your emails by segmenting the email list and personalising your campaign to engage effectively and avoid the spam folder. The number and structure of the emails you send to your new users must be of course in harmony with your email marketing strategy.
Luckily, you don't have to spend a small fortune to build your own email strategy. Email solutions can be found according to your needs. For Joomla! based company websites, RSMail! does a great job, helping you build your email list and start sending out relationship strengthening communications. It will be easy for you to track progress, such as click-through rate, conversion rate, and leads generated from an individual send, and to use that information to increase your results further.