Every website needs one contact form and that's just the bare minimum because if you want to deliver a great service or even product to your prospective clients then you need to use forms carefully placed in your website in order to gather information on customer preferences. That information is the supporting pillar of your entire product and marketing strategy.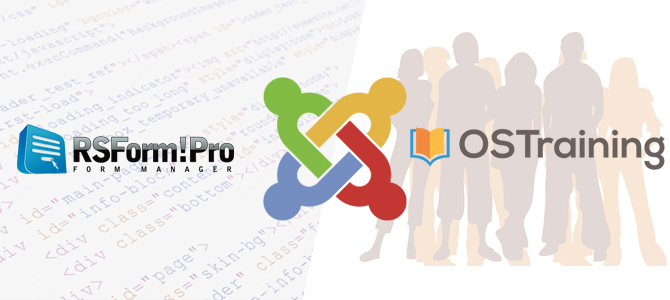 To do all this in your Joomla! website, the fastest and most effective way is to use a form builder. After you choose the perfect form builder for the job, you will want to go from zero to expert when it comes to using it. Fast! By purchasing RSForm!Pro and learning how to use it with OSTraining, you get more bang for your buck! I can tell you this from experience and here's why...
Reasons for my choice:
The OSTraining RSForm!Pro class is a video one, so you can learn online, take the class from the comfort of... wherever you want! It's very easy to go from zero to expert with OSTraining. You get unlimited access to a library of high quality Joomla! tutorials.
You can watch a short view about the course and form builder here:
Introductory Video for the Joomla RSForm Pro Class
The RSForm!Pro tutorial is presented to you by your tutor, Rod Martin. He is the perfect guy for the job! With 2 master degrees, he has extensive work experience and has been doing this for over 25 years. RSJoomla! approved his tutorials and I can confidently say, he is a great teacher! With his guidance, you will get as much as possible out of your chosen solution.
What does the class look like? How is it structured?
The class has 4 parts structured in 12 videos and a quiz. The tutor goes straight to the point in every one of them:
Part 1
An overview of the product in 3 videos to make you familiar with the uses and commands; what you will find and where, showing the extension's flexibility. After that you will get a detailed explanation and training for all the important uses. RSForm!Pro includes 3 predefined themes to get you started. The available layouts offer you the possibility to display the information just the way you want it.
Part 2
Another 3 videos in which you will learn how to Manage Form Submissions, optimising the submissions view, exporting submissions and use email addresses gathered to benefit your business strategy. You will also be shown how to get, activate and configure Plugins and Modules and set up intuitive Conditional Fields, that appear when the potential user interacts with the form in a certain way.
Part 3
You will learn how to use the PayPal Payment Integration to suit your needs, use ReCAPTCHA to verify that the user is not a spam robot, in a "silent" way and use Marketing Integrations such as MailChimp or Constant Contact to grow your market reach.

Part 4
You will see that you can Allow Users to Edit Submissions, by displaying them in the frontend and you will also be shown how to use Forms in a Module (feedback module, frontend list module, individual form module). Last, but not least important Rod will teach you how to use scripting power to personalise information displayed to your users, and gather valuable extra information (Form Manipulation on Submission).
The class ends with a quick quiz that you will have to pass with a minimum score of 70% in order to complete the course and get your certificate. Not to brag, but of course I got 100%.
As you can observe from our little tour, the OSTraining video class on RSForm!Pro takes you through everything you need to know in an fast and easy way to understand, giving you the time and freedom to use if effectively straight from the start.
To take the Joomla! RSForm!Pro Class subscribe to OSTraining or try the 7 day trial here: OSTraining & Joomla! RSForm!Pro