Today we are going to have a little chat with our guest Richard Bankert, Joomla! trainer and owner of Richard Bankert Web Design, about Joomla! and Joomla! extensions in particular.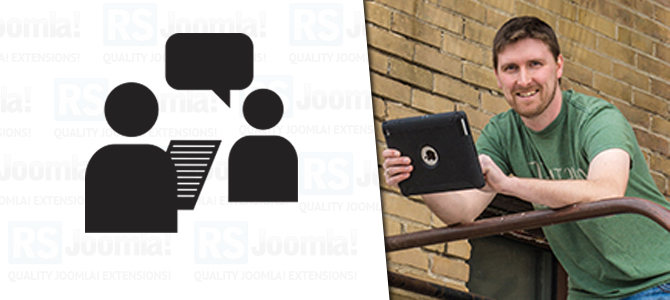 Feel free to write comments that would help both our organizations bring you and your fellow joomlers more information and better services.
Thank you for making time to have a chat with us Richard. We have noticed that besides developing websites, you also offer Joomla! training and you are very appreciated for your advice and guidance. Can you tell us more about yourself and your experience with Joomla!? How did you start creating websites in Joomla!? When did you start training others on the Joomla! CMS and its extensions?

I started into Joomla! one day when I was visiting a friend who had started to develop websites using Drupal. I thought the idea of a CMS sounded pretty cool and on my way home stopped at a bookstore to grab a book on Drupal. Of course there was not one, but there was a book on Joomla!. 24 hours later I had the Joomla! basics down and began to get into Joomla! development.

I started training others a number of years later. I came to realize that I was spending a lot of time teaching clients how to use the basics and it was much easier to simply point them to a video that they could follow to refresh their training. I do enjoy training people and want to do a lot more of it, but have to balance it between other projects that actually pay money.

What range of websites do you develop?

I focus mostly on small business, but have clients in all ranges and languages.

Have you played with any other CMS's (content management systems)?

I have played with a lot of different CMS's including Wordpress, Drupal, CouchCMS, Impress Pages…and about 100 more that I have forgotten about.

And after exploring, you sticked with Joomla! I see. When you started, what did Joomla! lack at that time or what were your mistakes?

….I can't remember back that far, lol. I believe they had just moved from 1.0 to 1.5 at the time. It has definitely become a lot easier to work with. A lot of "minor" tweaks in the usability have saved me a lot of time in setting up new websites (Save & New button was a God send). I think the biggest thing starting out in any CMS is learning what extensions/developers are good and which ones are poor. You can spend a lot of time trying to alter an extension to do what you need it to do, so understanding which extensions will work for the situation, and which extensions are flexible is important.

What difficulties have you encountered when developing websites in Joomla!? What difficulties have people expressed in the Joomla! trainings that you host?

This is more of an observation of my clients. The biggest difficulty, for beginners, is connecting the creation of content and the display of that content, and understanding how the two work together. I create an article, now how do I get it to show up, etc. As far as the biggest difficulty….that changes every day. There is always a new challenge.

What RSJoomla! extensions do you use?

I have played with all the RSJoomla! extensions, some I love and use more than others. My goto extensions are RSForm!Pro and RSFirewall!.

What extensions do you think users need but have not yet been created?

I think there are a lot of good extensions out there covering a lot of basic areas. I currently don't have a need for an extension that has not been created yet. The biggest issue I have with this area though is that there are some extension that are very good, and some that could be so much better. A couple of the biggest hang-ups are extensions that are trying to be too much, too fancy, developing eye candy rather than a strong system.

Yes, we strongly agree with you on that point. When it comes to your clients, which RSJoomla! extension would you say is essential to the websites that you create?

My favorite is RSForm!Pro, definitely very easy to use, and very configurable.

How would you say Joomla! changed over time? Could you talk a little about how you see the Joomla! CMS evolve over the next years?

The most important change, as of late, has been the mobile friendliness. The core concepts of it, although being rewritten, basically remain the same. In the next couple years I see more drag-n-drop being introduced. There are some "major" extensions that are beginning to introduce this. In some situations this is nice, in others it is more eye candy, pointless, or simply implemented incorrectly for real world use.

Any words of wisdom for the Joomla! lovers who are reading this?

Get in touch with other Joomla! lovers whose opinion you can trust and can build off. The advice of another to catch your mistakes in invaluable.
Thats great advice, thank you Richard. That was Richard from Richard Bankert Web Design ladies and gentlemen! Thank you for reading and if you have any questions for one or both of us please include them below and we will answer asap. Don't forget to subscribe to the blog in order to get more insight from your fellow Joomla! users, developers and trainers!