Prometheus was said to have given us fire to warm us up; Alexander Fleming is known to have given us penicillin to cure our diseases; and the Joomla development team has given us, and is still providing us with, one of the handiest CMS to simplify moving our business and hobbies online, and to help us blossom and flourish. Whether you are going to create a website for your customer or for yourself (blog, news website, magazine, portfolio, restaurant, pet-related site, travel website and so on) Joomla would be a great choice, which will help you save time and effort.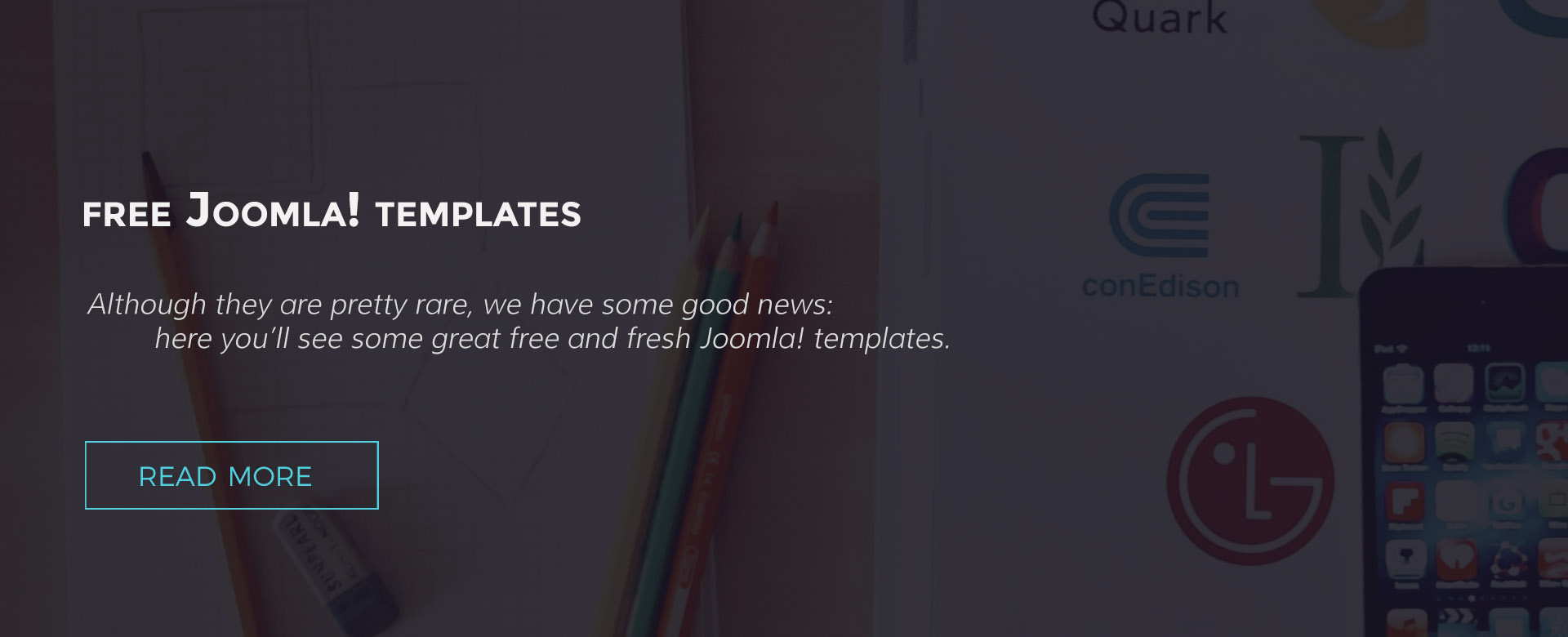 Your inner voice has made you click on the name that contained 'Joomla templates', therefore you must have already made your decision which CMS to choose. Or else, you haven't, in which case you'll shortly see some facts (and free beautiful Joomla themes in particular) in this blog post which you may care to consider before arriving at a final decision.
In a little more than 10 years of its existence, Joomla has gained a community of millions, and it obviously continues its development. 2.7% of all websites are powered by Joomla (that is millions of sites) - that's a big piece of a web pie. According to the statistics, Joomla is being downloaded every 2 seconds. Impressive, isn't it?
While searching for the right Joomla template, you must've run into many premium themes and not that many (if any) free themes. The reason is - free Joomla templates are pretty rare. Good news: here you'll see some great free and fresh Joomla templates.
Please note, 10 Free Joomla Templates featured below are offered by such companies as TemplateMonster, Vinagecko, CloudAccess, etc. Although, some templates on the list look a bit basic, there are a few free templates that look as good as premium ones.
Make a choice and may one (or more) of these Joomla templates become your devoted digital helpers who will be in charge of the smooth functioning of your website.
Free Joomla Templates
---
Interior & Furniture Free Joomla Template
Demo
|
Download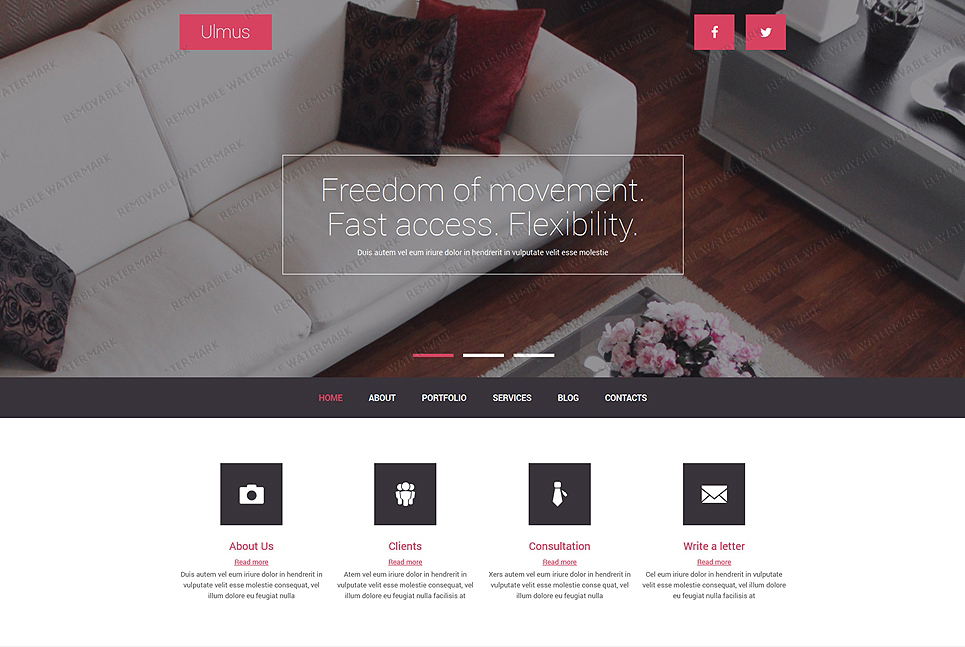 Remember that cozy feeling you get when entering a furniture store? Where every couch seems to be so attractive that you find yourself craving for purchasing at least one of them. That is the same sort of feeling a customer will get seeing a website built using this theme, whether it stays as a furniture store or you transform it to another e-commerce website. The website will encourage returning visitors thanks to its cozy layout, pseudo-3D look because of Parallax scrolling and many more features. And remember, you get all this functionality for free.
Family Center Free Joomla Template
Demo
|
Download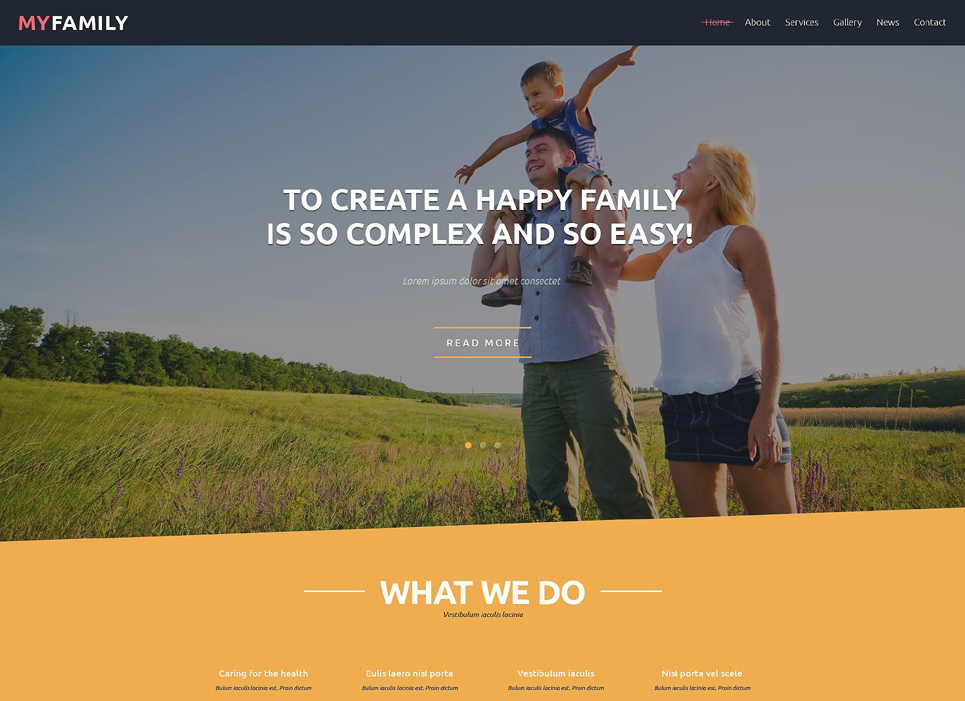 This is another free Joomla template that can create a unique look for your website. The designers took the path less travelled - they chose downward lines as one of the characteristic features. It's SEO-friendly, responsive and trendy. Don't miss your chance to make your site stand out from the crowd - check it out.
Vina Fashion
Demo
|
Download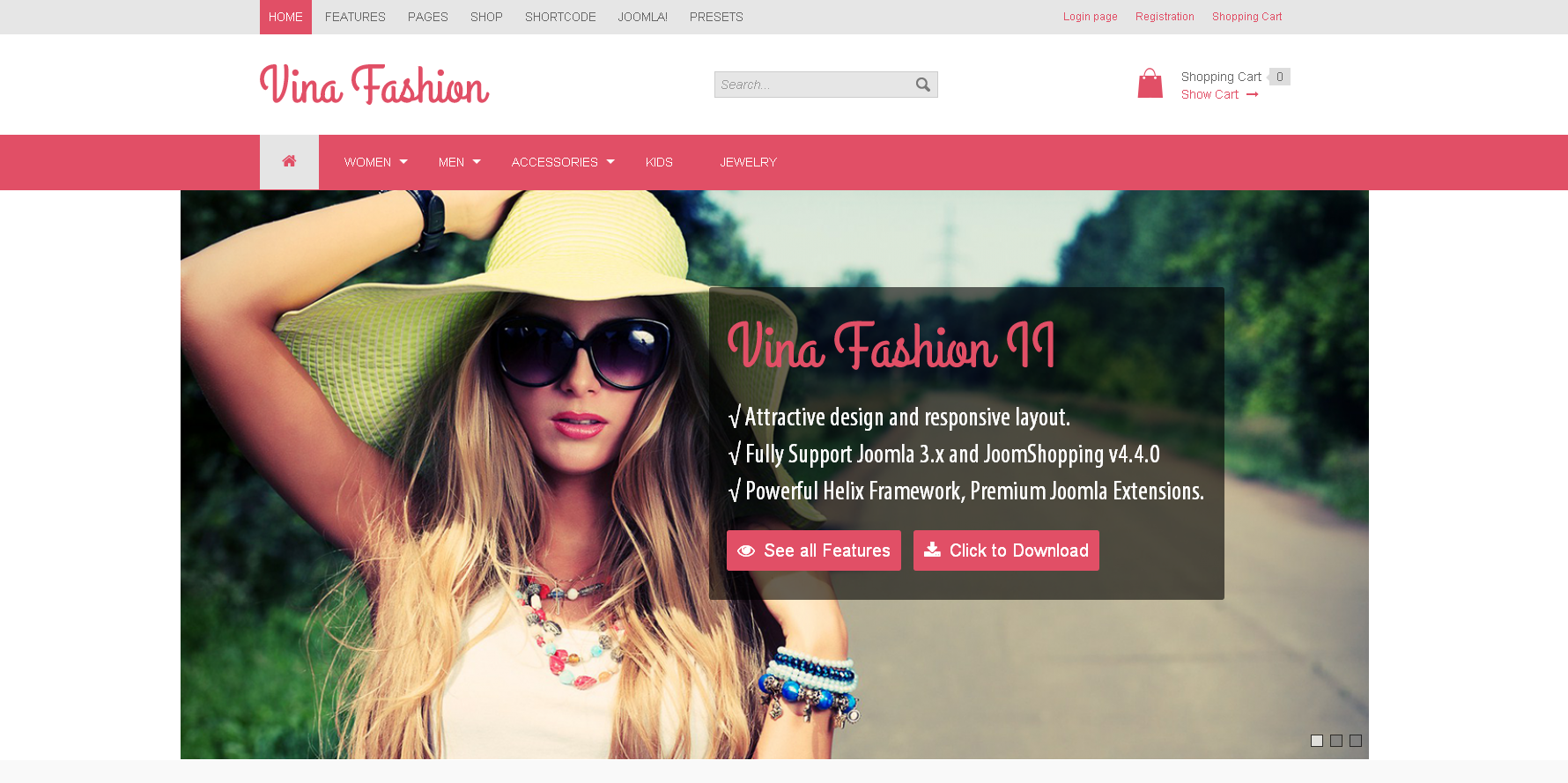 A clean and beautiful Joomla template for a nice e-commerce website. Appreciated by many, it has become the basis for many sites. Everything an e-commerce store needs: responsive design, layout builder, mega menu, rich typography - all these and many more are the features that make this template a perfect fit for many websites.
Cloudbase
Demo
|
Download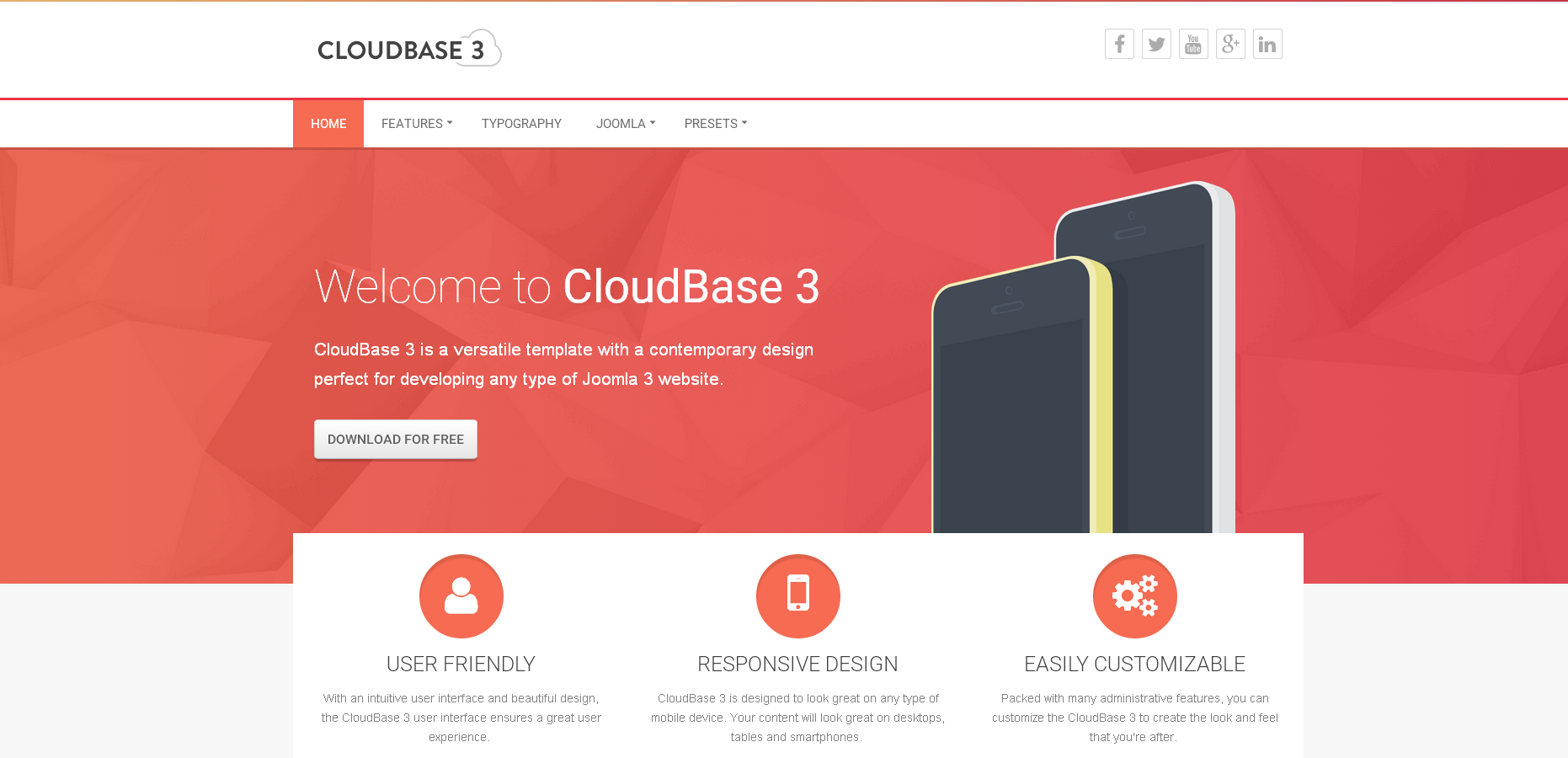 If you are going to create a Joomla-powered website, this template is worthy of your attention. You will definitely like the way its design is laid out - airy and flat. It can be a great option for your project.
Constructo
Demo
|
Download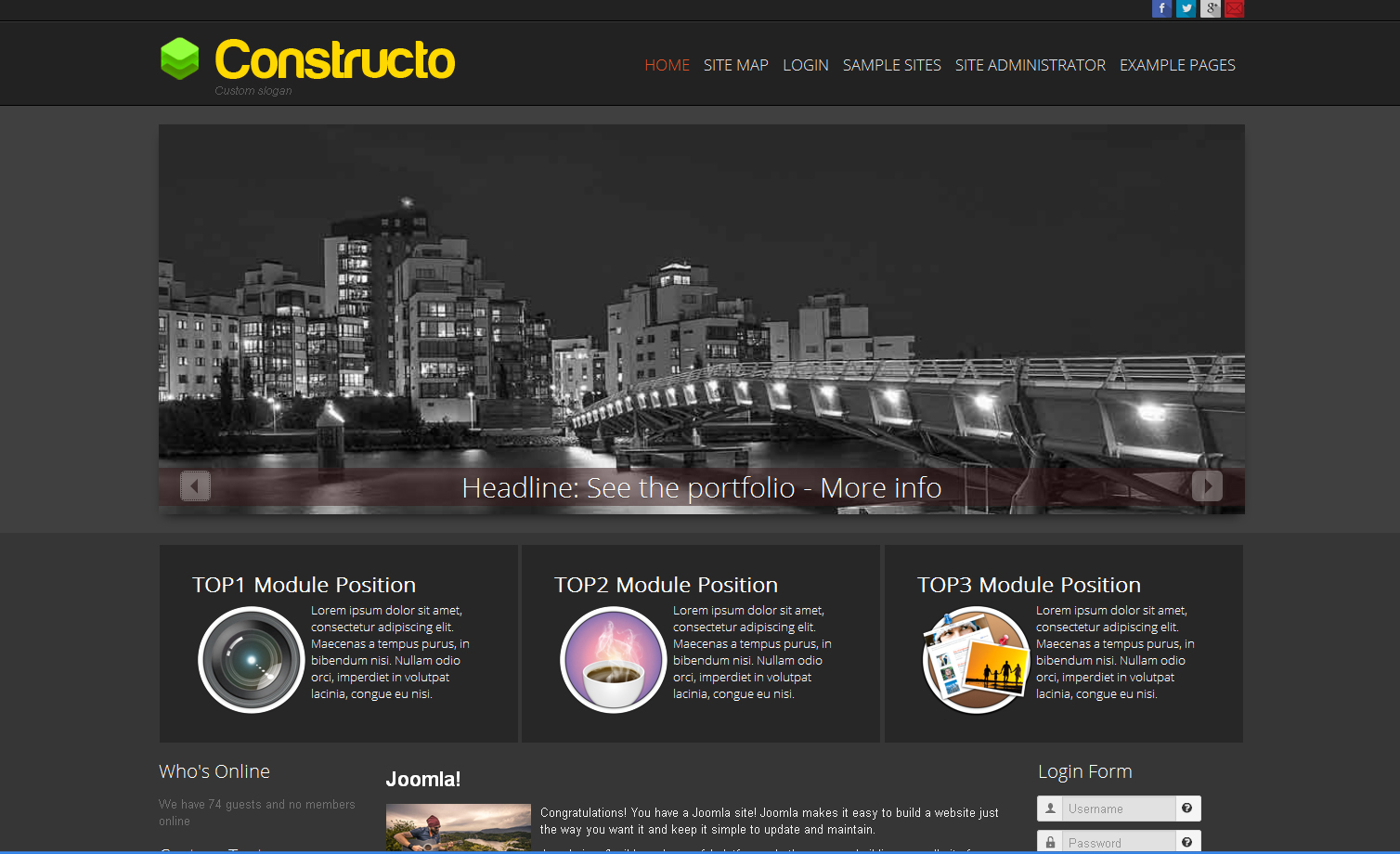 Not all templates can boast a design such as this one has. Should you need to place a lot of text on a website yet wish to keep it visually simple, this template may come in handy. Besides, dark is always trendy.
6.
Plazart UI
Demo
|
Download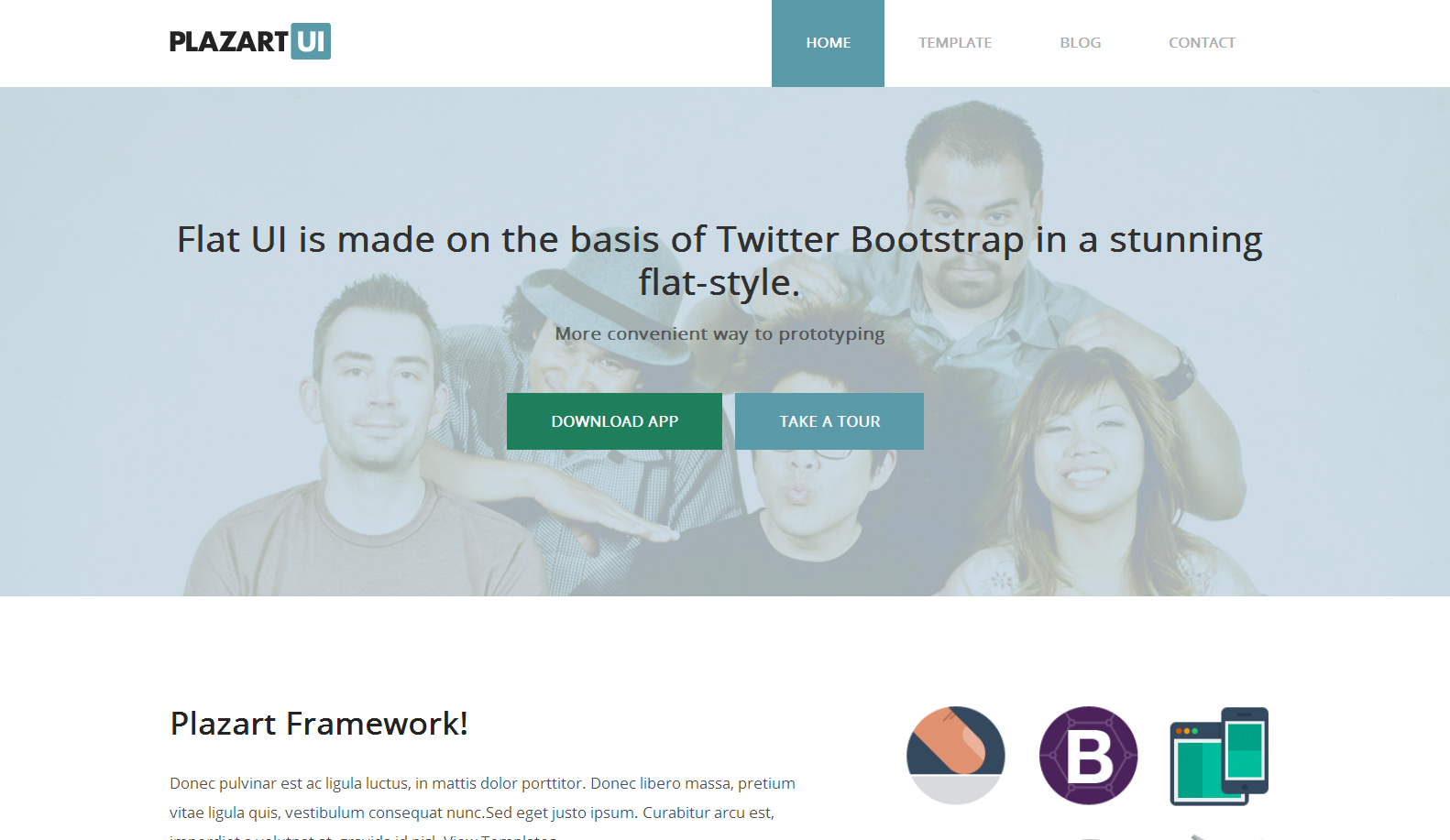 Speaking of trends, flat design has taken a firm stand and is not likely to decline for a while. When everything around is so loud, simplicity becomes king. Thus, if you need your website to be one of those examples of easy-to-take designs, this free Joomla template may be for you.
Blue Design
Demo
|
Download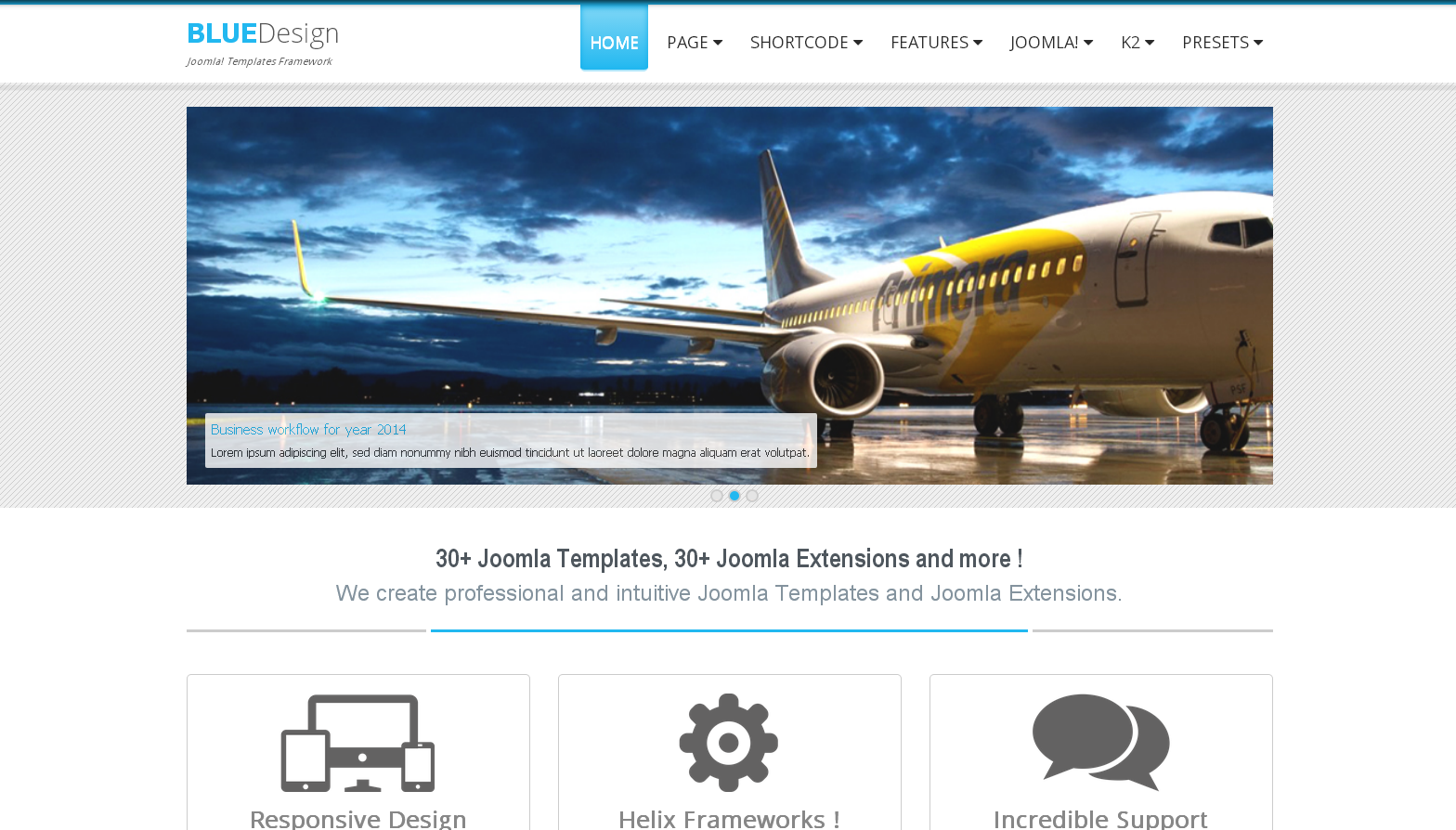 You may like to consider the beautiful and minimal design of this template: it is an ideal option for blogs, portfolio websites or anything that needs great visual presentation and text.
Minimalist
Demo
|
Download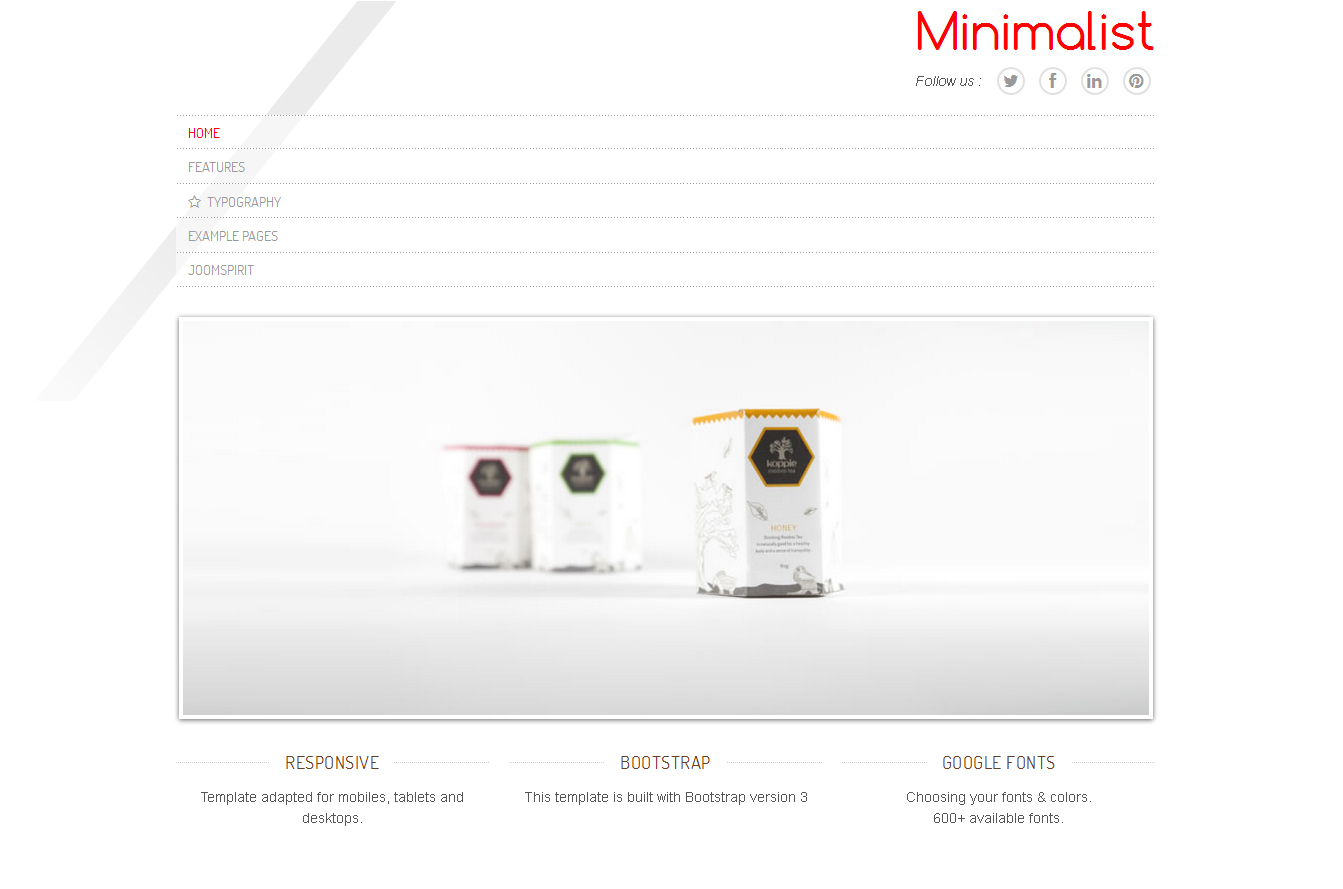 Less is more. If you are a minimalist fan, you cannot help but love this airy design. An unusual placement of the menu is perfectly interlaced with the overall image. You simply can't miss it.
Classic
Demo
|
Download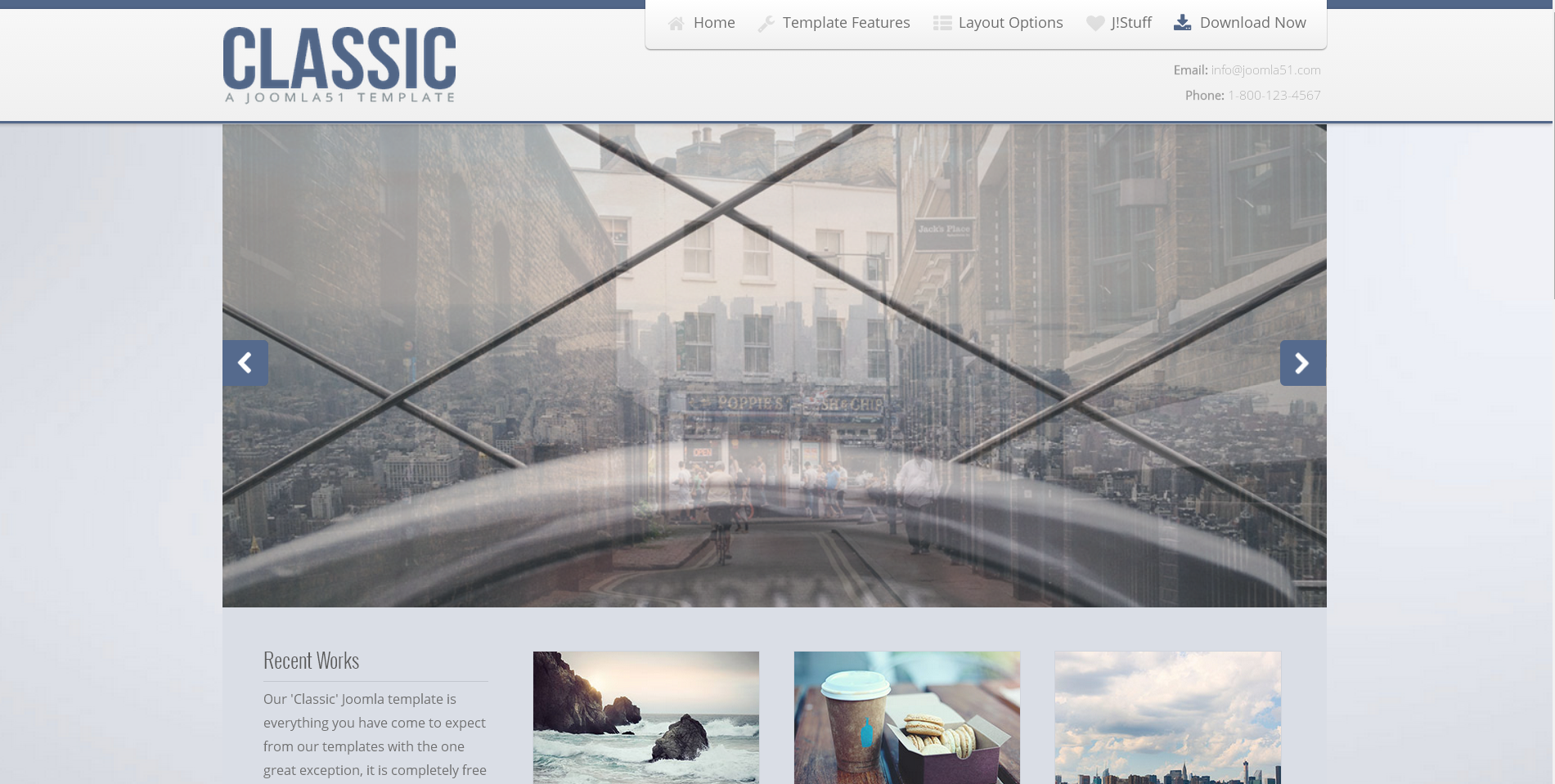 Classic - an eternal trend on which you can always rely. If you can't clarify which template you like the most, maybe you subconsciously need a classic template and this one may be a suitable match for your project.
Crosstec
Demo
|
Download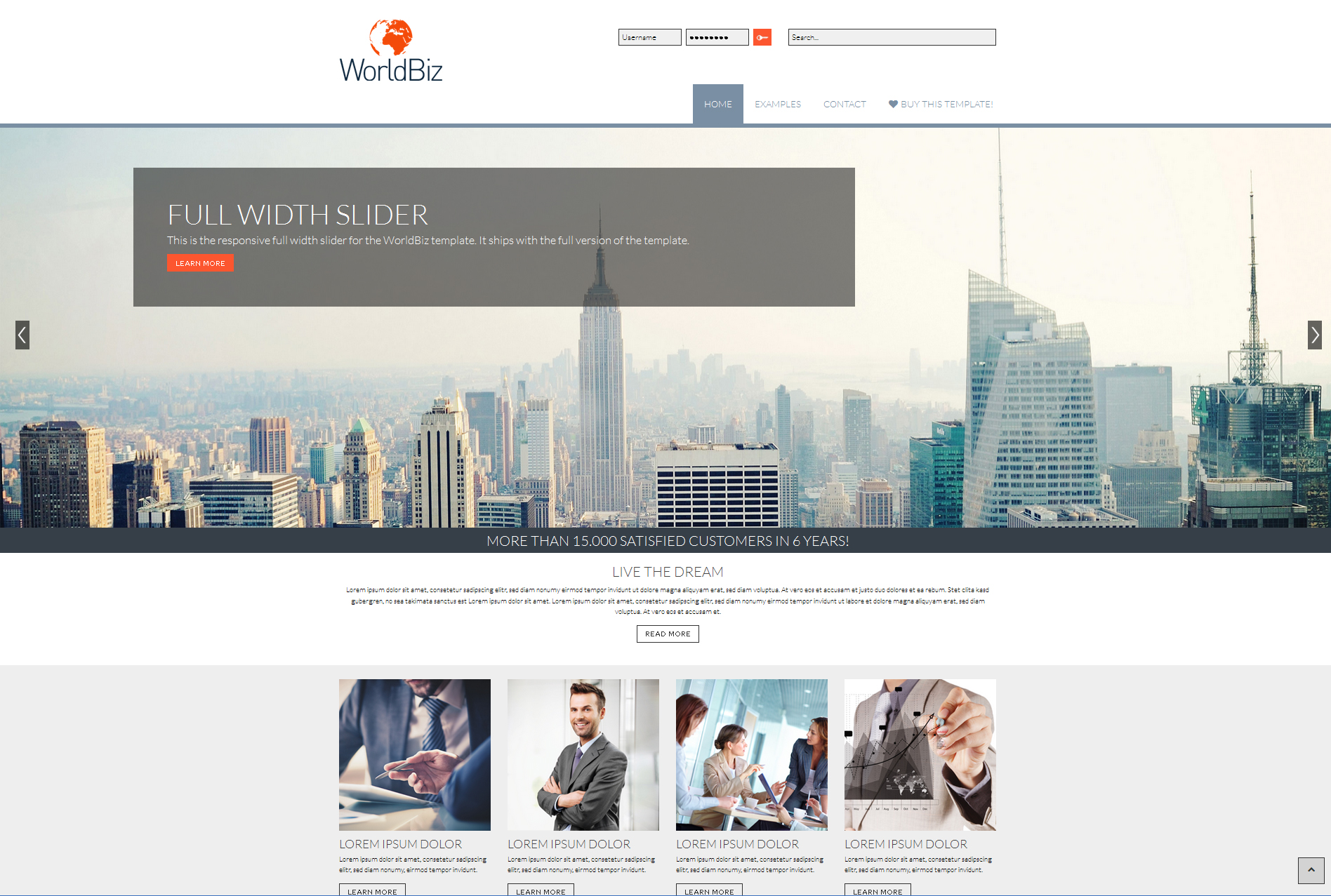 Hover effect, flat design, a lot of white space, mega menu, showcase slider - if all these features are those for which you are looking - check out this template. See the image slider? Maybe the pictures on your website would look great there.
We hope you enjoyed the free Joomla templates you've just seen and who knows, maybe one of them will help you build your Joomla website or update the site you already have.
And if you feel we missed any free template that is worth to be mentioned here, please leave a comment with a link to this freebie.