You can easily integrate your dotmailer account with RSForm!Pro using the new integration plugin! This will allow you to create and insert contacts in your address book using the data submitted in the form. Read this blog post for more information!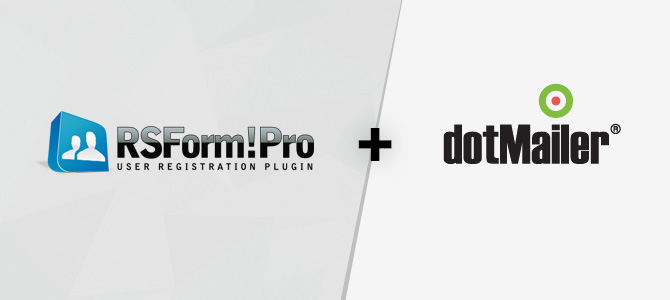 What it does?
---
This integration plugin will allow you to map the information submitted in RSForm!Pro's form through the dotmailer's api and store it as contacts on your account. Dotmailer is the well-known platform that offers a full range of services to help you optimize your email marketing.
How to use it?
---
To get things started, you will have to retrieve your API key here: dotmailer
Edit one of your form's and head to its properties area, access the dotmaier integration tab from the listing on the left and enable the integration through the radio group.
As you can see, there's a number of actions that can be set to predefined values or you can allow your submitter to choose his preferred option. More information can be found in the video tutorial or in the RSForm!Pro - Dotmailer documentation.
How to get it?
---
The plugin is included in the RSForm!Pro's subscription and if you have an active license, you can download it from the "My Downloads" section of your account. If you are in need of a subscription, you can purchase one from the product page.
Something new?
---
If there's anything you think that should be implemented in future releases, be it a brand-new feature or an improvement for an existing one, don't hesitate to tell us about it!