A new version of the integration between RSForm!Pro and Constanct Contact is available! The plugin uses the new API to deliver a smoother experience to the end-user. Read this blog post for more information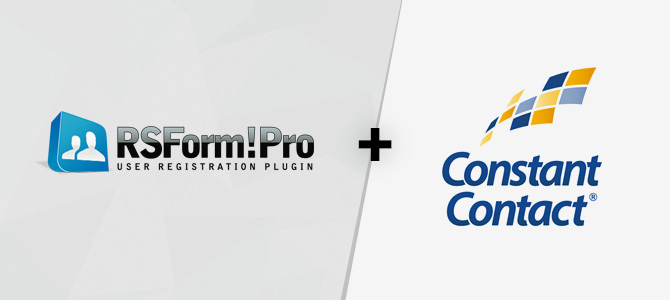 What it does
---
Constant Contact is an email marketing solution that allows you to send newsletters to your subscribers. After the form submission, user's details will be passed further to your Constant Contact account. The new version of the plugin will allow you to update the existing contacts from your lists!
How to use it
---
Using the integration plugin between Constant Contact and RSForm!Pro is fairly easy, we even prepared a video tutorial for you:
And you can find detailed information in the documentation article: RSForm!Pro - Constant Contact.
How to get it
---
The plugin is included in the RSForm!Pro's subscription and if you have an active license, you can download it from the "My Downloads" section of your account. If you are in need of a subscription, you can purchase one from the product page.
---
Something new?
If there's anything you think that should be implemented in future releases, be it a brand-new feature or an improvement for an existing one, don't hesitate to tell us about it!