We are eager to announce you that one of the features you were requesting in our feedback section, is finally here! RSForm!Pro - Zoho CRM integration plugin is released. You will be able to automatically assign the user's submitted data to your Zoho CRM account as new leads. Read this article for more information!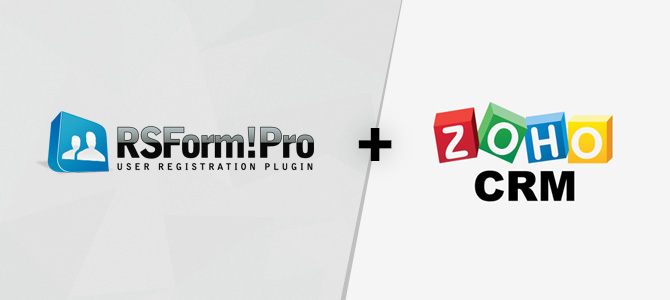 What does it do?
---
The plugin will run silently in the background and will map the submitted information in your form to a Zoho CRM account. The integration is done simply by "merging" the RSForm!Pro fields with the fields from the CRM.
We even released a video tutorial on how to use the plugin:
If video tutorials are not your cup of tea, you can read-up on the documentation article that we prepared: RSForm!Pro - Zoho CRM integration plugin.
How to get it
---
The plugin is included in the RSForm!Pro subscription, available for download for all users that have an active subscription through the "Downloads" section of rsjoomla.com. If you are in need of a subscription, you can purchase one from the product page.
Something new?
---
If there's anything you think that should be implemented in future releases, be it a brand-new feature or an improvement for an existing one, don't hesitate to tell us about it!