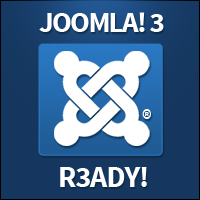 A long time has passed since we have released a new revision for RSMembership!, leading some of our users to believe that we have given up on this component. The present release comes to shatter those false beliefs, bringing some improvements to the component's functionality and look, as well as the long-awaited Joomla! 3.x compatibility.
Joomla! 3.x compatibility
As the number of users who switch to Joomla! 3 increases, the need to migrate our components to that version becomes more pregnant. The new revision of RSMembership! finally brings the much-anticipated compatibility with Joomla! 3.x.
Improvements
Most additions that this new revision brings to the table concern the component's frontend functionality and look: the frontend design was improved, extras can now be purchased directly from the subscribe view and displayed as a select box or radio group, category descriptions can be displayed, users can cancel their subscriptions in the Show subscriber's memberships menu item. Also, the Reports feature is now integrated with the Google API.
For more info on migrating RSMembership! to Joomla! 3.x, you should have a look at the article on this topic in our documentation.
Updating the component is explained in this dedicated article .
Keep in touch with us
As always, in order to continuously improve our components, we await your feedback regarding bug fixes, new features or even new components. Your opinion really matters!