I know why you are here. You probably are building a Joomla! based website and you found out that the default Joomla! contact form is way to limited for your needs.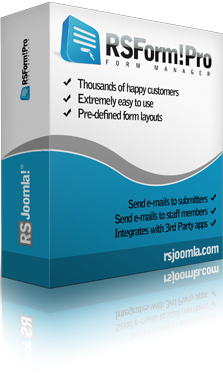 That's why we created RSForm!Pro. Our Joomla! contact form builder not only helps you create contact forms in your Joomla! based website quickly and without any programming knowledge, but it also comes with a full range of features, that are easy to access and user friendly!
Perhaps you need more than just a Joomla! Contact form?!
With RSForm!Pro you can send e-mail to submitters and to your staff members at the same time, you can add anti-spam checks and make the form blend with the looks of your Joomla! website in no time
RSForm!Pro has built-in layouts that update automatically, while you are building the contact form. Also, the nice part is that you get to change absolutely any form field property within one screen (ajax used for speeding up the form building process).
Do you want to attach a pdf document to the reply that you're sending to the customer? No problem. With RSForm!Pro you can!. And you can also attach the files that the submitter uploaded and send them to your staff members.
You can play with RSForm!Pro on our demo server to test its features or you can watch our video tutorials on RSJoomla! TV: