We've released a new RSForm!Pro plugin, which allows you to replace the standard Joomla! registration form with a customized one, thus you will be able to collect additional data during the user registration.
Requirements
RSForm!Pro 1.3.0 rev. 36, at least
the RSForm!Pro - Joomla! user registration plugin
Joomla! 1.5 or Joomla! 1.6
How to use it?
Step 1: Download the RSForm!Pro - Joomla! user registration plugin
Access your RSJoomla! account and download the plugin from Resources >> Customer Downloads >> RSForm!Pro membership >> Downloads >> Plugins >> RSForm! Pro Joomla! Registration Plugin
Step 2: Install the RSForm!Pro - Joomla! user registration plugin
The plugin installs through the default Joomla! installer.
In the backend Joomla! panel, head to Extensions >> Install/Uninstall and upload the plg_rsfregistration.zip package
Step 3: Create the custom registration form
Suppose that you need to collect additional user information during the Joomla! registration as the user's address or its interests.
In our example, we've included the standard registration fields: name, email, username, password and confirm password and added 2 custom fields for its address and role.
Step 4: Configure the plugin
The next step after creating the registration form is to choose in the "Configuration" tab, the form that you want to be displayed on the registration page: the default Joomla! registration form or the custom one created with RSForm!Pro.
Additionaly, you can set an internal redirect.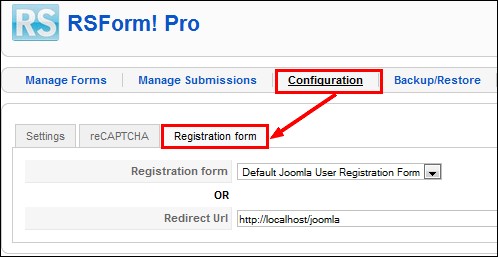 Step 5: Map the RSForm!Pro fields with the default Joomla! registration data
Once you have installed the plugin, head to the RSForm!Pro "Manage forms" tab, edit the registration form and enable the Joomla! Registration integration. While you are here, you can enable the option that sends notification emails after submitting the registration form.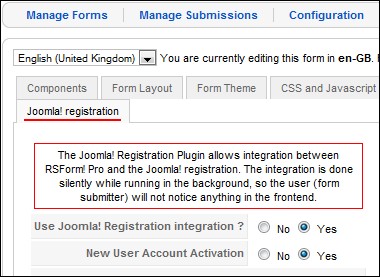 The last thing you need to do is to map the RSForm!Pro fields with the corresponding Joomla registration data: name, username, email, password and verify password .
After registration, the user receives an account confirmation email. In backend, part of the user supplied data are added in the Joomla! "User Manager" area: username, name and email. All the user submitted data, including the custom fields are saved in the RSForm! Pro "Manage Submissions" area.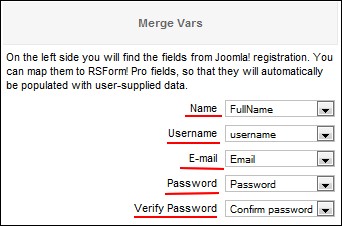 Watch the video tutorial:
Ep. 59: How to create custom Joomla! registration forms with RSForm!Pro