If you're managing a Joomla! event website, then you would probably know that recurring events is a must have functionality.
Suppose your local community handles a church based website and their members are planning to meet each friday whithin 6 weeks before Christmas.
Lets' see how easily is to set the above recurring events in both, frontend and backend Joomla! panel with RSEvents!
1. Set repeating events in backend
In the Joomla! backend panel, you will be able to set a recurrence interval for the event in question and some basic parameters, by using the "Repeat" icon from the "Events" tab, as shown in the below screenshot.

After enabling the repeating option, you will be allowed to set the interval when the event will be repeated, until what day, in which weekdays to repeat the event and so on.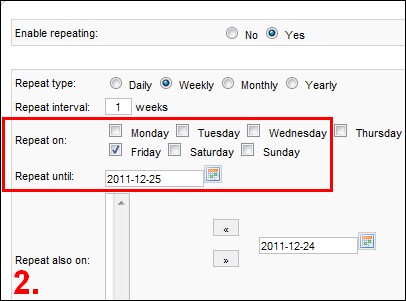 After saving the recurring configuration, RSEvents! generates copies of the original event for each repeating date.
All repeating events will be listed in the "Events" tab.
Example
If the church members are meeting each friday, within 6 weeks before the event occures, RSEvents! will generate 5 event copies in the "Events" tab.
2. Set repeating events in frontend
Repeating events can also be configured in frontend by group users that are allowed to add new events. You can read more about RSEvents! group permissions here.
Notice that only the event owners can configure in frontend recurring events.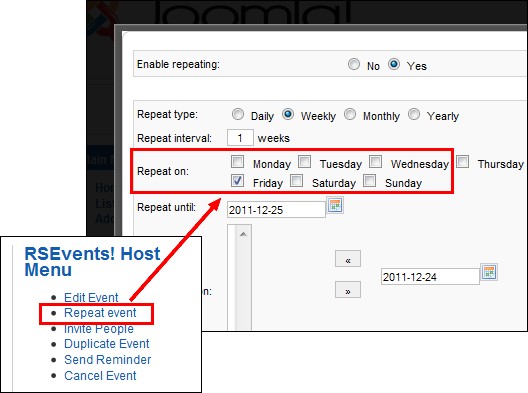 Tips:
repeating events will be displayed in the upcoming & calendar module, list events and calendar view
the "Upcoming Module" can be configured not to show the repeating events
if you want to modify the repeating events, you just have to apply the changes to the original event and the event copies will be updated automatically
the events that are created from repeating events can't be configured to repeat again.
only the event owner can set repeating events in frontend
Video
We've also created an in-depth video tutorial that will guide you step by step, in configuring recurring events with RSEvents!
Ep. 55 - Create recurring events in Joomla! with RSEvents!