The form translation has just become easier with the RSForm!Pro newest feature: the multi-language native support.
1. Multi-language native support
You will be able to translate all the necessary form information:
the component caption and items, the validation message, the default value and the description.
When editing a form in the "Mamage forms" tab, you will notice a language selector which allows you to choose the native language, as shown in the above screenshot.
Make sure you have the Joomla! native language pack installed.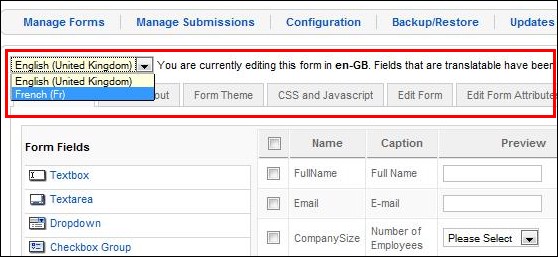 Other translatable form areas:
in the "Edit form" tab, you can translate the form title, the thank you and the error message.
you can also translate the marked fields from the user and the admin emails and their specific messages.
the "meta tag" tab: the form meta description and meta keywords are translatable into other languages as well.
In addition to the native multi-language support, we've included a new language filter in the "Manage Submissions" tab and a new option in the "View submissions" menu item and in the mod_rsform_list: ability to show the form submissions in frontend by language.

If you need further guidance in translating forms with RSForm!Pro, you'll find an in-depth article in the RSForm!Pro documentation and a video tutorial on RSJoomla! TV:
Ep. 52: How to translate a Joomla! form using the RSForm!Pro multi-language option