We've been quite busy these days launching the new RSForm!Pro 1.3.0 , working on an important RSEvents! update and today, with the release of the new RSTickets!Pro revision.
RSTickets!Pro rev. 4 comes with fresh updates: improvements, minor bug fixes and new added features, some of them highly requested by our subscribers.
1. Backend ticket submission
Among other features from our TO DO list, we have chosen to include the ability to submit tickets directly from the backend.
Starting with rev. 4, the administrators and the staff members can submit tickets for a public user (a new account is created right after submission ) or on behalf of a registered user.
To submit a new ticket from the backend, head to Components >> RSTickets!Pro >> Manage Tickets >> click on the "New" icon from the right side of the panel.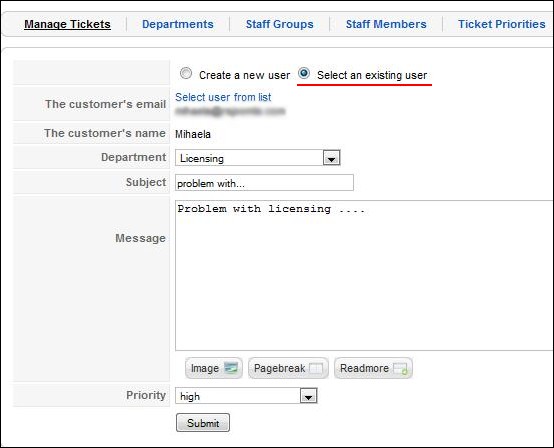 2. Ability to force staff members to see only their own departments
Starting with rev. 4, we've made some changes regarding the tickets management: staff members will be able to see only their assigned departments.
Administrators will allow/restrict the access to other departments when adding/editing new staff members.
e.g. If a staff member belongs only to the Billing department, he won't be able to see tickets from the Tech department or change the ticket department.
These changes are encountered in 2 RSTickets!Pro locations:
a. My tickets
The staff member will be able to view and answer only to tickets from his own departments.

b. Editing a ticket
When modifying the ticket department, in the "Ticket Information" tab, the staff member will be able to select only his assigned departments.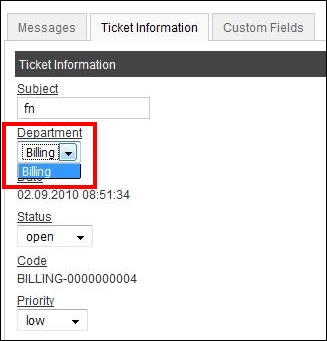 3. Tickets can now be colored based on their priority level
To better distinguish tickets in backend, we've introduced the ability to assign a background and a text color to each priority, using a color panel.
To assign a priority color, head to Components >> RSTickets!Pro >> Ticket priorities >> Edit the priority >> Use the color panel to edit background and text color.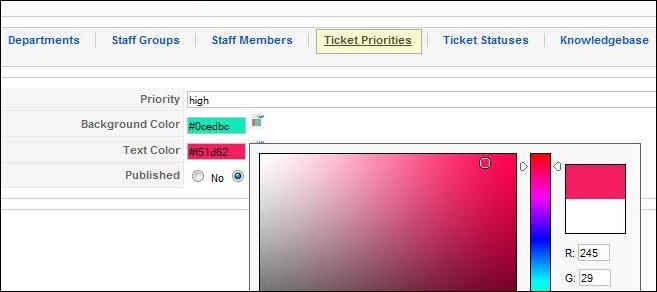 How to update to RSTickets!Pro rev. 4?
Other improvements and fixes:
Updated - When only allowing registered users to submit a ticket, the user will be redirected to a login page
Updated - Color picker reports compatible with MooTools Upgrade
Added - Customers can now be redirected to a custom URL when submitting a ticket
Added - Ability to choose whether or not to include attachments in emails
Added - Ticket messages can now be sorted descending or ascending, by date
Fixed - Staff members validation bug
Fixed - Staff members permissions bug (replying)
Fixed - Custom fields not being ordered in ticket view
Fixed - Bug with listing articles in the backend
Fixed - "All categories" no longer appears as a category when editing articles
Fixed - Attachments are now sent with notifications email
You can find the entire changelog here.