The new RSMembership! revision comes with an important number of added functionalities : the One-Time Payment Settings option, the Custom fields tab and the Trial periods for memberships.
One-Time Payment Settings
Beginning with the rev. 11, you can find new options for one-time payment: you can set different prices for renewals, when creating a new membership in the Joomla! backend panel.
So, when a user wants to renew his membership, he can now pay a different price than he did the first time.
Also, here you can configure the membership coupon discounts - coupon codes and prices.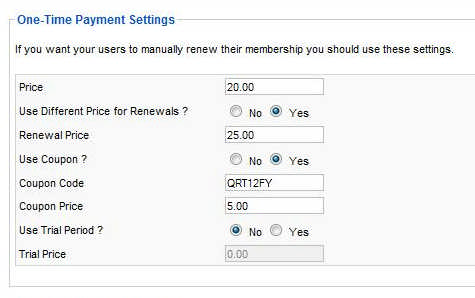 Trial periods for memberships (options included in the One-Time Payment Settings and Length Settings)
You can set trial periods in the "Membership" tab using 3 options: Use Trial Period, Trial Price and Trial Period.
The Use Trial Period option lets you set a membership trial, so the user can access the site content for a limited period of time on a trial basis.
To set a price for the trial membership, use the Trial Price option. If the trial is free use the 0 value.
You can set different time frames for the Trial Period : hours, days, months or years.
Custom fields:
If you want to add more fields to the subscription form (besides the default ones: address, city, state, zip and country), you can use the Custom fields tab.
There are 8 types of custom fields to choose from, beginning with the rev. 11 : custom HTML, Text Box, Text Area, Select List, Multiple Select List, Checkbox Group, Radio Group and Calendar.
For each new custom field created, you can add Validation Messages, Additional Attributes for the CSS properties, Values for text box, text area, custom HTML and calendar.
You can find detailed explanations of the custom fields in the RSMembership! user guide.

The entire list of changes can be found in the RSMembership! changelog.