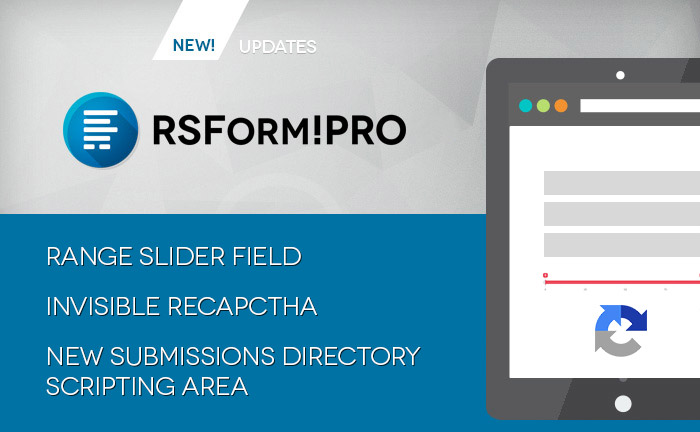 Check out the new features and improved functionality available in the latest release of our powerful form builder, RSForm!Pro.
1. Range Slider form field
A new field type was added to the already robust set of available form components. Check out the cool, comfortable, responsive and easily customizable range slider for RSForm!Pro. The basic slider is horizontal and has a single marker that can be controlled with a simple drag of the mouse or through the arrow keys on your keyboard. You can read the full description of the field in our online documentation.
---
2. New Submissions Directory scripting area
RSForm!Pro always offered full control over your forms and also submissions editing process. We have gone one step further and provided a new specialised scripting area that will allow you to better manipulate your Directory emails.
---
3. Invisible reCAPTCHA
After many hours of intense testing, the new Google Invisible reCAPTCHA is finally here, separate the bots from people without any kind of challenge. No more "I'm not a robot" with Google's Invisible reCAPTCHA.
---
4. No longer installable on Joomla! 2.5
Although Joomla! 2.5 completed its projected lifespan (back in December 2014 actually) and the previous versions of RSForm!Pro could be installed on the latest 2.5.28 version, starting with version 1.52.10 you will no longer be able to install RSForm!Pro in a Joomla! 2.5 environment.
---