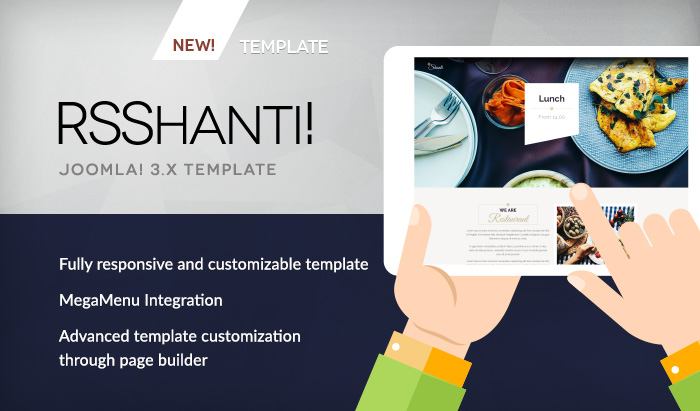 Our team has prepared a brand new Joomla! Template - RSShanti!, a fully responsive restaurant template that includes a clean design and lots of features, such as a built-in page builder, Mega Menu integration and improved content transitions. You can choose from 6 predefined color schemes or you can easily create your own theme. If you have troubles in starting your website, you can install the available sample data, then adjust it according to your needs.
Lets take a closer look at some of the features included in the template:
Fully Responsive
As all our templates, RSShanti! is also fully responsive, highly customizable and compatible with Joomla! 3.x. Its responsive capabilities are brought in by the well-known Bootstrap framework, whereas the flexibility in customization is given by its multitude of configuration parameters and the built-in Shortcodes feature.

---
Mega Menu
RSShanti! allows you to improve your website menu and have a better, more organised navigation with the great looking Mega Menu integration.

---
Page builder
The RSShanti! module positions were suggestively defined for an easier understanding of their location and they are also fully customizable through the integrated page builder. You can re-arrange the template positions by simply dragging and dropping rows of positions to the preferred locations. You can also click on the Row settings button in order to customize the background color, margin top, margin bottom, padding top and padding bottom of the selected section.

---