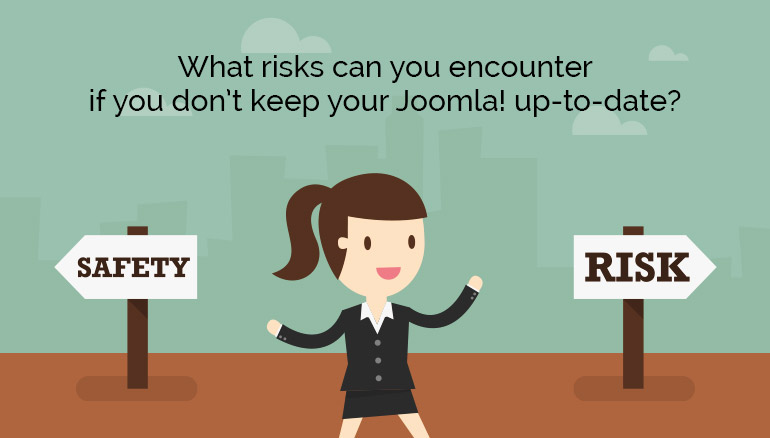 Your website might get hacked

A lot can be said when it comes to speaking about the risks of not upgrading your Joomla! Version. Security issues can and, most probably, will give you the most serious headaches.
On 14 December 2015, there was a major security vulnerability discovered which affected all Joomla! versions from 1.5 through 3.4.5. At that time, one in every three websites were recorded to be dangerously insecure. The good news is that new versions have patched these vulnerabilities, although it takes time to discover when and how these vulnerabilities are being exploited.

You're missing out on new features

This year, release of Joomla! 3.6 brought significant improvements, allowing you to reinstall Joomla!'s core files at the click of a button, including overwriting modified files and also allowing to revert them back to the default.

You might end up working more

There are many UX improvements with each Joomla! release - things you were doing before you could be doing much faster; remember when you had to assign an article to a category only to find out that you haven't created that category yet? Joomla! 3.6 allows you to create a category straight from the article editing screen, while older versions could not.

Your website won't break when PHP is updated

Any software should be kept up-to-date - even your hosting provider needs to update its software from time to time (good hosting providers, that is). If your host updates to a newer version of PHP, you might run into trouble when you find out your website isn't working anymore.
Updating shouldn't be a hassle anymore now that it's so integrated in the core

In the old days, updating Joomla! meant you needed to connect to your FTP account and unzip the update package. Now, in order to perform an update, you have to simply log in and click an update button. We highly recommend you apply updates as soon as possible to make sure your website is secure. For a healthy process, it is advisable to first set an offline mode and disable all plugins that you are not sure will work on the next CMS version (check with the developers' websites). After completing the Joomla! update, you can get to the next natural step of updating the extensions and templates installed on your website. A final check is required to make sure all features work correctly and the website runs properly.

Minimize the risks by protecting your website

A good piece of advice is to have a professional Joomla! firewall installed on your website, if you want to minimize the risks of potential threats and also benefit from technical support, in case some hacker wants to mess up your work. Experience has proven that users who updated their websites to the latest Joomla! version available and also had a firewall extension installed, were less vulnerable to attacks. Every little thing that you do will add another extra layer of protection; while you can't make your website unhackable, you can greatly minimize the chance of getting hacked.

Joomla! has come a long way

If we look back at the multiple fixes and improvements in the history of Joomla, we can tell that this CMS has become more stable and secure. Seems like the virtual battle between hackers and Joomla! Superheroes becomes more and more fierce. It's hard to tell if and when this is going to have an end, but if you follow the guiding steps on the official Joomla! website and keep up with the latest releases, the risks you can encounter are considerably lower.