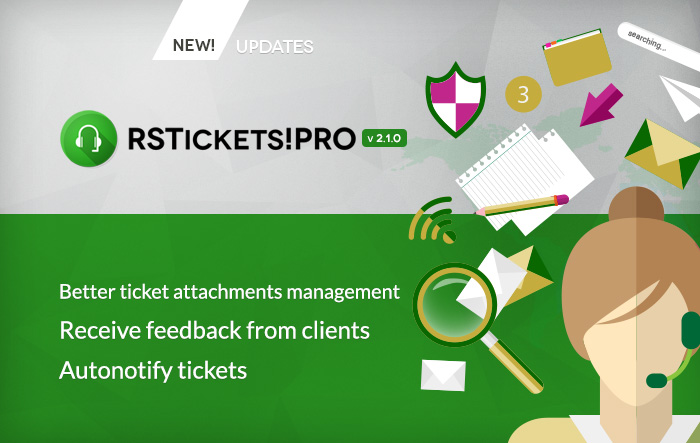 The newest version RSTickets! Pro comes with loads of new features and improvements, so let's check them out together!
New features
Department Options
You can now choose between sending the uploaded ticket files as attachments to the component emails or generating download links in the email's body.
Email Messages
Two new emails have been added to the RSTickets! Pro emails list:
Department changed: This notification will be sent when the ticket department is changed;
How would you rate the help you received?: Follow-up feedback email sent when a ticket is closed.
Configuration Options
Usernames can be created based on email addresses and you can now allow users to set their own passwords.
Improvements and fixes
Now that we explored the new features of RSTickets! Pro, let's visit some old ones that we improved:
We know time is precious, that's why we added the Autonotify feature, so you no longer have to manually notify every ticket if your configured number of days are exceeded.
The Global and Submit messages can now be set in multiple languages using language placeholders.
And last, but not least, updates for RSTickets! Pro will now show up in the Joomla! Update section.
If you want to explore the full potential of these new features and improvements, access our
documentation
.
Note:
Expired subscriptions can be renewed with a
30% discount
(this discount is applied automatically).