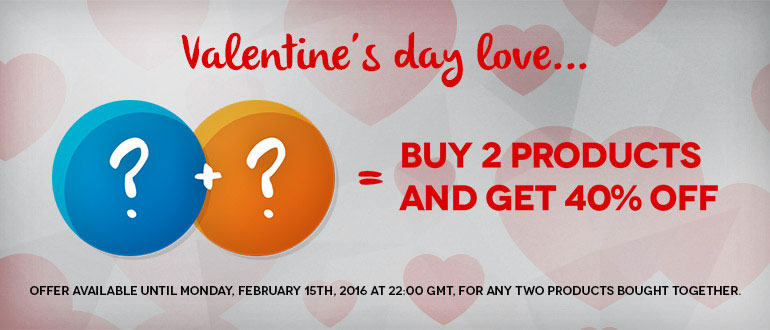 Love, love, loooove!
This weekend is all about celebrating what and who we love. Though we won't be able to find your soulmate, we can share our love for Joomla! with you.
As good things come in pair, so does our current promotion: get at least two distinct products and voila - 40% discount.
Note: No coupon code required, just add the products to your shopping cart and the discount will be applied automatically.
Promotion available until 15th February, 22:00 GMT
Best couples:
Add to cart RSFirewall! and RSSeo! - suitable for any Joomla! website
Add to cart RSEvents!Pro and RSForm!Pro - for your event oriented website
Add to cart RSMail! and RSForm!Pro - for a complete newsletter system
Add to cart RSMembership! and RSMail! - perfect match if you need a newsletter membership oriented implementation
These are just a few of the popular combinations, but you can browse the Joomla! Extension List and our Responsive Template Designs for the combination you need and get 40% off on Valentine's Day.
You can spice things up further by adding an RS - Template into the mix. Note that these are always delivered with a complementary RSMediaGallery! license.
Don't forget to share the love.
Happy Valentine's day!