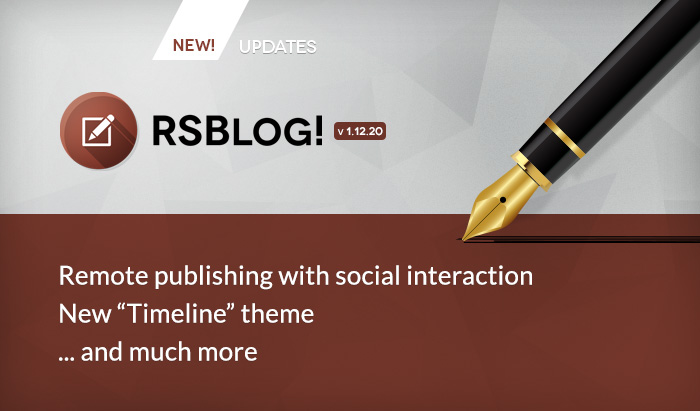 The next component in line to receive an update was RSBlog!, our weblog management solution. Check out the new features available in the new release.
Social interaction added to the Remote publishing feature
Social media channels are the best way to increase your articles reach. Although the Remote publishing feature was introduced quite some time ago, the previous versions of the component did not have a direct social media sharing functionality for remotely published posts.
RSBlog Version 1.12.20 changed all that, you can now post your remote articles on Facebook and Twitter immediately after they are created. For more information on how to use this powerful feature please refer to the RSBlog! Configuration article.
New Timeline theme
If you want to have a bigger visual impact on your readers then you are welcome to try out the new Timeline theme available in the new release. This can be easily enabled from the general component configuration, all you need to do is select the theme and this will update your general posts listing page into a timeline layout.
Various improvements for blog posts
The new version of the component also provides improvements to the post configuration and layout.
You can now select a local image from the images folder as the blog post image, instead of being forced to upload an image each time a blog post is created;
When listing posts from a single category, the category will be included in the page title;
The currently displayed page number is also included in the page title;
Added rich snippets for the blog post image in the blog post layout.
Note:
Expired subscriptions can be renewed with a
30% discount
(this discount is applied automatically).