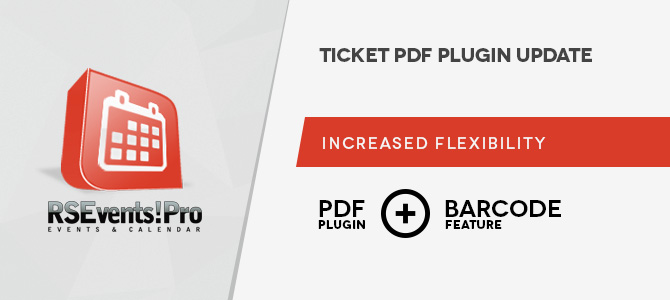 A critical feature for any event management component is the possibility to offer users that subscribe to an event a printable ticket that can be used at the event venue. The Ticket PDF plugin is our solution for this. In combination with the Barcode feature this provides a powerful, yet easy to use solution for monitoring attendance to your events.
We have just released an update for the current Ticket PDF plugin that will help you better control the generated PDF file.
What's new in the plugin update
---
Aside from using the latest version of the domPDF class, you can now control the Font, Orientation and Paper size of the PDF ticket. This can be easily configured from the Ticket PDF plugin configuration in the default Joomla! Plugin manager.
Font - By default three generic fonts will be available (Times New Roman, Helvetica and Courier). You can install additional fonts for the plugin by following the instructions presented in the Ticket PDF documentation.
Orientation - This allows you to choose between a portrait and landscape layout for the file.
Paper size - With this you can control the size of the PDF document.
Interested in RSEvents!Pro?
---
If this article piqued your interest, please try taking a look at the RSEvents!Pro documentation and demo server here:
Documentation Demo Buy RSEvents!Pro
Users that already own a RSEvents!Pro license benefit from a 30% discount when renewing their subscription.