Details on setting up RSMediaGallery! within a multi-language website, either through third party extensions such as FaLang or by using image duplicates.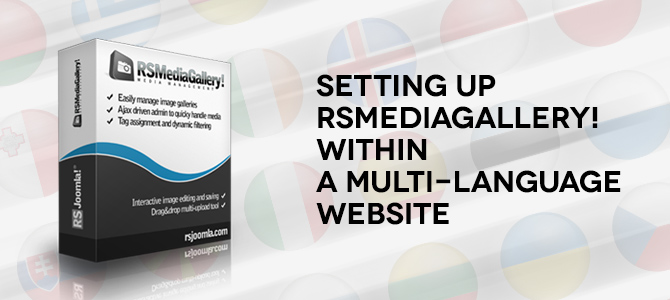 Intro
---
As the name suggests, RSMediaGallery! allows you to create a professional looking gallery within minutes from its installation. This includes lightbox, transition effects and picture effects which you can have published with its menu items, inside Joomla! standard articles, third party content areas and even in module positions.
Currently adding data for your pictures will be used over all your languages. But, what to do for a multi-language website? We'll discuss two approaches on this scenario as well as their advantages / disadvantages.
I. FaLang - a third party solution
This component allows you to perform multi-lingual content translations. Disadvantages could range from familiarizing yourself with two components (instead of one) and going back and forth between components for such a setup. However, a great advantage is not requiring duplicating pictures as you can directly translate the content.
II. Duplicating pictures
Though as an advantage you'll have one centralized area for your pictures data, this does requires a duplicate picture for each of your languages (this will occupy more space, thus being a disadvantage).
I. FaLang - a third party solution
---
In order to use FaLang to translate RSMediaGallery! data, an XML file is required which points FaLang to RSMediaGallery! database tables in order to apply translations.
If you're not familiar with creating such an XML file, no need to worry as we'll provide one for you. Just access Downloads section RSMediaGallery! - view all plugins and modules > RSMediaGallery! Files > 3rd Party > Content Elements for FaLang (afterwards, simply unzip the archive).
We recommend that you refer to the official FaLang documentation on how to use the component, especially regarding content elements.
After the XML file is uploaded through FaLang, you'll be able to translate RSMediaGallery! picture information by navigating to backend > Components > FaLang > Translation > from the "Select Content element" select "RSMediaGallery! - items". Your pictures data will appear and you can select for which language to provide a different translation.
Special Note: In case you're using RSMediaGallery! tag filtering option on either "Gallery Layout" menu item or via the RSMediaGallery! Content / System plugins.
In order to have different captions on this tag filtering functionality based on your languages, you'll have to: add multiple tags on an image (each for a language), use multiple Gallery Layout menu items that can be set to only shown on a particular language, and select the tags the menu item should include via its configuration.
II. Duplicating pictures
---
Nothing besides RSMediaGallery! is required, but the amount of duplicate pictures will be determined based on how many other languages you have in your website (eg: you have 4 pictures and 4 different languages - this implies a total of 16 pictures).
Basically each picture duplicate is setup for a particular language. While pictures have their own unique tags, when displaying them in the frontend area, you can have these filtered based on tags.
For example, a picture can have multiple tags and you can add a tag named 'english' on all your pictures that you would display on the English version of the website (doing so, you can use the Albums Layout or any other RSMediaGallery! feature to list pictures in the frontend area, and only include pictures which have this 'english' tag).
RSJoomla! Community
---
All the available language packs (for all our components) are created and donated by the community, the following languages are available for RSMediaGallery! :
Feedback about your wishes, our components or even future development, can be added here. The community forum area can also be used to share your thoughts.
How to get it
---
Access to the downloads section of RSMediaGallery! is granted to users that own an active subscription. If you are in need of a subscription, you can purchase one from the product page.