Everyone hates the ugly, useless sweater that they get for Christmas from their family! And this happens every single time! Ruins all the fun of getting a present ... But don't worry, we've got something that's going to make up for that: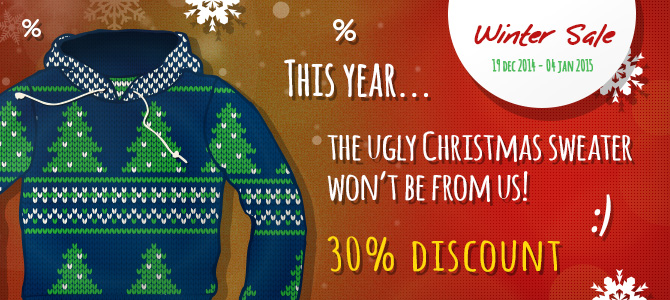 That's right, a 30% discount on all multi-site licenses and templates! No better time than now to do a make-over for your website's frontend and rest assured that our support team will back you up on any troubles that you might have, as always, in a timely manner.
Hurry up, the time for the offer is limited! The promotion just started today, the 19th of December 2014, and will end on Sunday, January 4th 2015, at midnight GMT +2.
Make sure to use this coupon when purchasing either a multi-site license or a template:
We'd also like to take the opportunity and wish you a warm Merry Christmas and a Happy New Year!!! In the purest Christmas spirit,
The RSJoomla! Team