That's how one of our clients approached us while seeking for a Joomla! event manager. The request really blend in with RSEvents!. The client was looking for a few weeks to add an event planner to it's Joomla! based biker club, but trying the existing solutions, he didn't find one to solve it's puzzle.
So it was late afternoon when we received a ticket stating somethin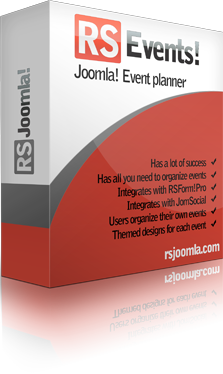 g like: "Guys, I need a Joomla! event extension that has:
A calendar view to quickly find upcoming bike meetings
A google maps integration to pinpoint the location of future biker gatherings
A way of allowing bikers to register to the event, but by filling additional custom fields
And it would be nice, but not mandatory to have a way of inviting my google contacts to the event
Well, RSEvents! has all these features embedded, thus making it the ideal solution as a Joomla! event organizer. The calendar layout can be shown also as in a Joomla! module position, and you can even filter the view to only show events from a specific category of events.
Enough dealing with a fixed "table" layout when listing your events. With RSEvents! you can customize the Event Intro Layout, making it look exactly the way you want it to.
What about managing the after event in your Joomla!? RSEvents! integrates with commenting extensions, and you can send people post-event invitation to share impressions, comments and even Flickr photo albums.