A whole list of improvements and new features have been added into the new RSEvents!Pro revision, starting with a better RSForm!Pro integration to better understand how registration can be done, better RSMediaGallery! integration which now doesn't need the integration plugin anymore, multi-language notification e-mails and much more.
RSForm!Pro integration made more intuitive
Starting with Revision 3 you will be able to see what's missing in making a good integration between the two extensions. Just follow this simple step by step guide in order to use a custom form for the event registration.
Using RSForm!Pro to create custom forms for your events is easy and gives you the power to ask for all the details that you need for your events from your subscribers. Combined with the unlimited features that RSForm!Pro offers, you'll basically have all the tools that you need to create a complete event registration
Export submissions now include RSForm!Pro data as well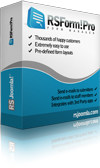 If you're using RSForm!Pro as a registration form for your events, you'll be happy to hear that starting with Rev. 3, when exporting the event registrations, you'll have the RSForm!Pro custom fields as well inside the exported file.
Additional improvements have been added to the integration between the two extension. You're able to select whether you wish to save the submitted data both in RSForm!Pro and RSEvents!Pro or only in the event manager.
Multi-language notification e-mails
We have developed a feature that allows you to customize the notification e-mails that your users are receiving, on different actions, such as subscribing to an event, invitations, reminders and moderation e-mails.
Depending on the language that your user selected when registering to your website, you'll be able to send translated e-mails to the subscribers.
More and more features and improvements
The new revision comes with a full list of improvements and features requested by you, our active community. Some of the improvements are related to payments. The payment gateway is now shown inside the back-end subscription view; a payment mask can be configured to show ticket prices in a certain format, such as $ 1.99 or 1.99 USD, making it 100% configurable
We've added some new columns such as Subscrbier IP, Gateway, Status, Total amount in the file that is generated when exporting the registered users.

The RSMediaGallery! integration became much easier since it no longer requires a plug-in and it's built in. You simply must have the two extensions installed and you'll be able to use the gallery images directly inside RSEvents!Pro locations and events.
Developers have their share as well with the new CSS class added - "rs_event_ongoing" for the ongoing events, and also with the triggers "rsepro_afterSubscribe", "rsepro_beforeSubscribe" and "rsepro_details" that let them create integration plugins with other 3rd party applications