The new RSSearch! revision comes with integrations for Virtuemart 1.x and 2.x, RSEvents!Pro, RSFiles!, Jevents and EventList. We also took the time to make some improvements to the back-end interface.
Search products and categories inside Virtuemart 1.x and 2.x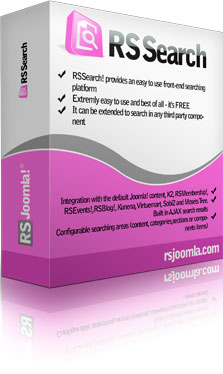 In the new revision of RSSearch! we worked on improving its integration with the existing extensions so we developed plugins for Virtuemart 1.x and Virtuemart 2.x, enabling you to find products or product categories with an AJAX driven dynamic search.
Search events and event categories in RSEvents!Pro
We have also added integrations with some of our products, such as RSEvents!Pro. Using this plug-in you can search within events and event categories.
Setting up the RSSearch! - RSEvents!Pro plugin is easy. The plugin gets installed along with RSSearch!. All you have to do is to head to your Joomla! back-end > Extension Manager, enable and edit the plug-in, and specify whether the plug-in should look in all of the event categories and events.
Other useful integrations and improved design
The new revision comes with other useful integrations, such as RSFiles! that lets you look for files, and also integration with 3rd party event managers such as Jevents and EventList.
We also took the time and gave the extension a fresh new look that will improve your user experience.