RSSeo! revision 12 brings two highly requested features: canonical support to solve the duplicate Joomla! content issues and the ability to generate the robots meta tag for each crawled page.
1. Canonical support
Joomla! has duplicate content issues: a single page can be accessed by users and search engine robots through multiple URLs.
Google has solved this issue by releasing the rel="canonical" attribute, which allows webmasters to specify the preferred version of a certain page and place it in the head section of the non-canonical pages.
The canonical element is now supported by RSSeo!: you can easily indicate Google and other search engines as well the preferred version of a page by choosing its "canonical" from an Ajax based URL list.
Specifying the canonical page in back-end
The non-canonical source page

Video tutorial:
Ep. 77 - How to specify the canonical version of a Joomla! page to prevent duplicate content
2. Generate the robots meta tag for each crawled page
RSSeo! revision 12 comes with an easier method of handling the meta robots tag: each crawled page has a dedicated section where you can control the content that should or shouldn't be indexed by the search engine robots, through 5 specific parameters: index, follow, archive, odp and snippet.
By default, the "index" and "follow" parameters are enabled for all pages, which means that no indexing restriction has been imposed.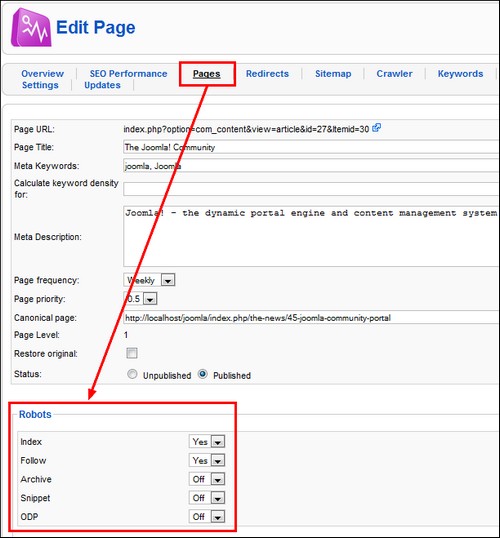 3. Enable/Disable the ability to use the php exec function
One of the RSSeo! crawler alternative solutions to loopback connections is the usage of the PHP "exec()" function. We've included a new option that allows you to enable/disable this function via the "Settings" tab.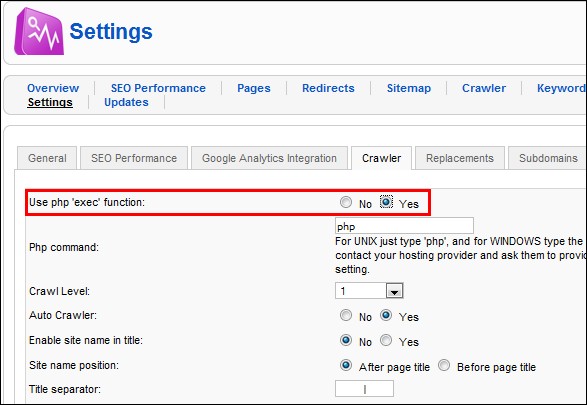 4. Include/Exclude Auto crawled pages to the sitemap
We've improved the sitemap functionality by including the option to include/exclude autocrawled pages.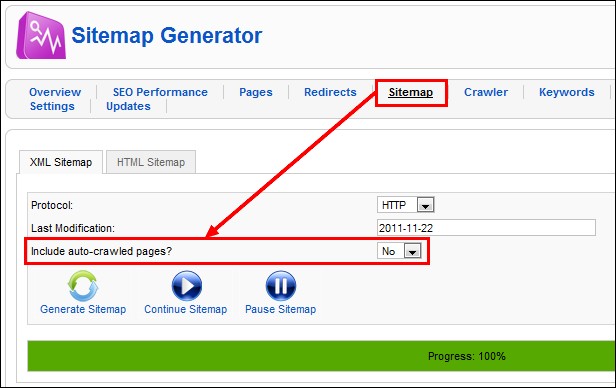 5. New "Pages" options
To enhance the "Pages" tab functionality, we've created a filter to show/hide sitemap pages and a new button that automatically adds multiple pages to the sitemap.
Another important improvement is the ability to set the page priority and frequency of each crawled page.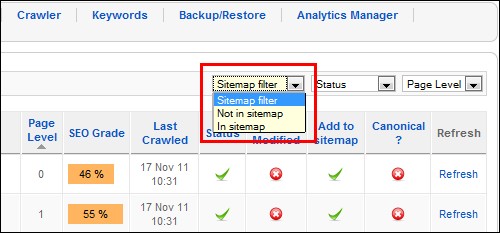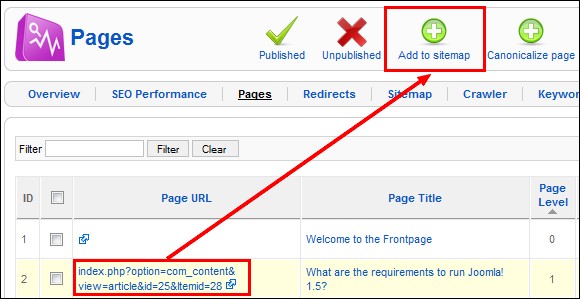 Changelog
How to update to RSSeo! revision 12