A new RSBlog! revision has been released today with new features, updates and fixes:
Joomla! Search plugin, notification emails, rating system and an updated post layout.
1. Joomla! Search Plugin
The integration with the default Joomla! search allows users to find content in the RSBlog! posts as well.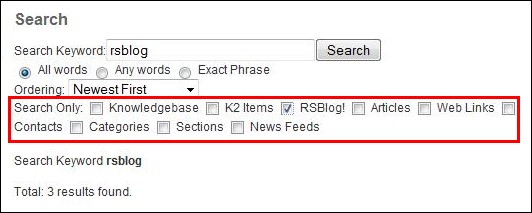 2. New subscribing options
Two new subscribing options are now available in the Joomla! admin panel, "Configuration" tab: you can allow users to subscribe to certain blog categories and restrict guest subscription.
3. Rating system added
Frontend users will be able to view the blog post votes and rate articles with the new RSBlog! integrated rating system.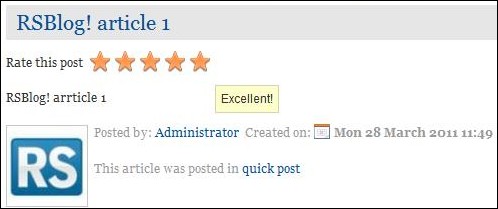 4. Notification emails
Each time a new post is published or a new user subscribes to your blog, RSBlog! sends a notification to the preconfigured emails (e.g. admin email).
5. RSBlog! Archive Module updated
This module allows you to display in a module position the archived blog posts, based on the selected parameters: months and categories. Starting with revision 5, you have a new module parameter that controls in frontend, the months display: ordering ascending/descending.
How to update to RSBlog! revision 5?
Read the complete changelog