The new RSSeo! revision comes with 2 highly requested features : ability to create HTML sitemaps and the keyword density tool.
1. Joomla! 1.6 compatibility
We've updated the RSSeo! source code to be compatible with the latest release of Joomla! 1.6.
2. HTML sitemaps
Starting with this new revision, RSSeo! has a built-in HTML sitemap option.
Just select the menu items that you wish to include or exclude from the sitemap and hit the "Generate" button.
To publish the HTML sitemap in frontend, head to the "Menu Manager" and create a RSSeo! menu link or directly type in the browser window the site address followed by "index.php?option=com_rsseo"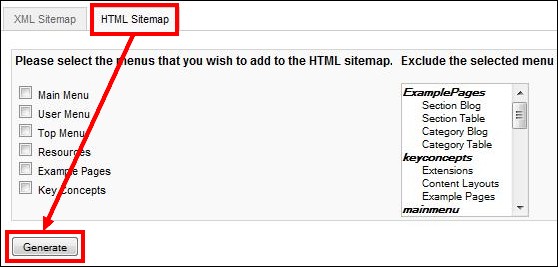 3. Keyword density
We've added a new tool that allows you to check the keyword density for each crawled page.
Basically, the tool calculates the ratio of keyword occurances compared with the total number of words on a page.
The option must be enabled first in the RSSeo! "Settings" tab >> Keyword density.

4. Include/exclude pages in the sitemap
In the "Pages" tab, you can now select which pages you would like to include/exclude from the XML sitemap.
By default, all RSSeo! crawled pages are automatically added in the sitemap.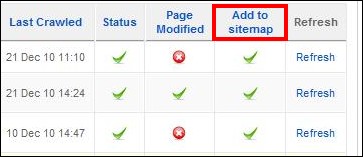 5. Setup redirects to external links
In the "Redirects" tab, you can now setup permanent or temporary redirects for non-internal links.
6. Keyword replacement limit
The "Keywords" tab offers essential tools for optimizing keywords: bold & underline keywords, internal anchor links, keyword atributes.
Starting with revision 10, RSSeo! allows you to set a replacement limit per page when applying the selected options to keywords.