Ep. 87 - Creating recurring events with RSEvents!Pro
RSEvents!Pro allows the automatic creation of repeated events. This is done through the use of the Recurring feature. In the video above we present an implementation example for this feature, by creating a recurring event which will be repeated each Friday and Saturday, until the end of the current month. Please follow these steps to reach the same results:
Head to Components >> RSEvents!Pro >> Events and click on New
Set up the event's name, starting and ending date in the Event details tab (note that you can edit the start and end time fields and manually enter the time)
In the same tab, check Recurring event. A new tab will be opened, Recurring
In the Recurring tab, set Repeat every to 1 days and End repeat date to the last day of the month by selecting it from the calendar field
Click within the Repeat on textarea and select Friday and Saturday
Check Apply changes to all occurrences and click on Update event
An implementation of the same scenario, along with some additional explanations can be found in the How to create recurring events article in RSEvents!Pro's FAQ section.
Comments
Related Videos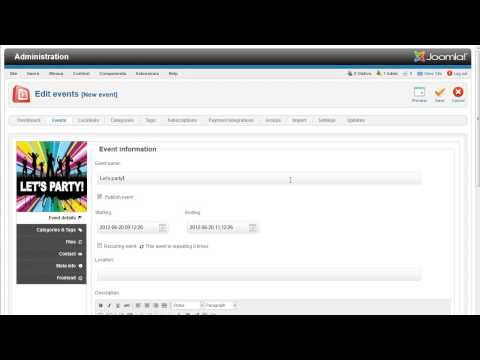 Joomla! Events - RSEvents!Pro - Creating a new event
RSEvents!Pro takes event management a step further with innovative new features and improved usability. We created RSEvents!Pro to make it easier for you to organize events, set up paid and free registration, create repeating events and better...
read more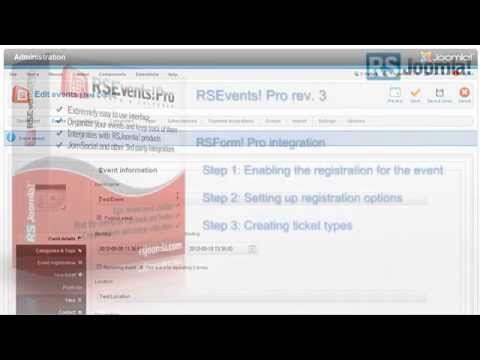 RSEvents!Pro - Register to events with RSForm!Pro
It often happens to our clients to need additional custom fields on their RSEvents!Pro event registration form. This can be done with a simple integration with our form builder, RSForm!Pro that allows you to link your forms to your events. Starting...
read more