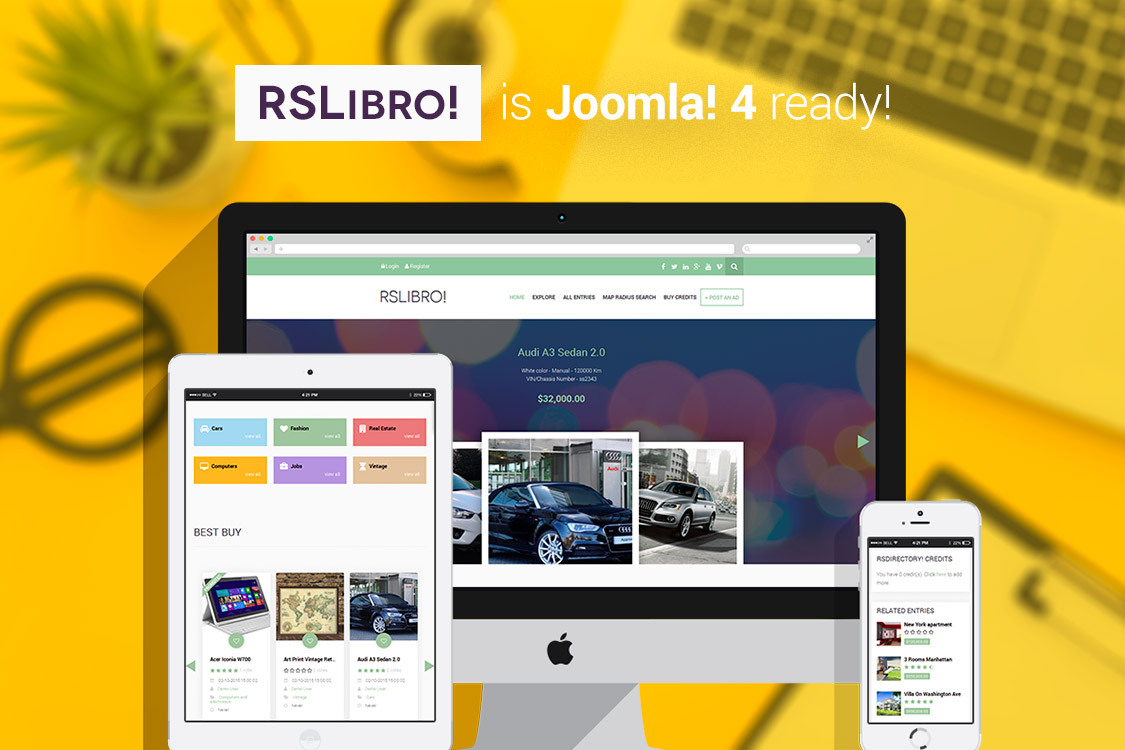 The wait has ended, RSLibro! is now compatible with Joomla! 4.
For those who are not familiar with our templates, RSLibro! is a Joomla Template for business directories, that has a seamless integration with RSDirectory!.
Whether you wish to start a local, national or worldwide directory listing business, RSLibro! comes to the rescue with clean flat UI and sample content that will speed up your way in the following areas of expertise: cars, fashion, real estate, computers and electronics, jobs, resumes, vintage items.
How to download it?
The Joomla! 4 compatible version will have a different installation package than the Joomla! 3.x version.
If your account already holds a RSLibro! subscription, or you purchase a new license, you will receive both versions and be able to download their installation packages from the "Downloads" section of your account.
All our templates that have a Joomla! 4 compatible version will offer an 'Explore Files' area where you can choose which version you need on your website, either for Joomla! 3 or for Joomla! 4, as illustrated below.

---
How to upgrade a Joomla! 3 website to Joomla! 4?
Upgrading a website on which you have RSLibro! installed from Joomla! 3 to Joomla! 4 can be done through the following steps:
perform a full backup of your website
perform the update to Joomla! 4
install the RSLibro! template version for Joomla! 4
Since there are major differences between Joomla! frameworks, more precisely, Bootstrap 2.3.2, which is Joomla! 3 standard and Bootstrap 5, which is Joomla! 4 standard, you'll need to adjust all the RSLibro! Bootstrap elements used, such as Carousels, Tabs, Accordion.
---
If you're encountering issues with updating / upgrading your websites,
don't hesitate to contact us here.
---