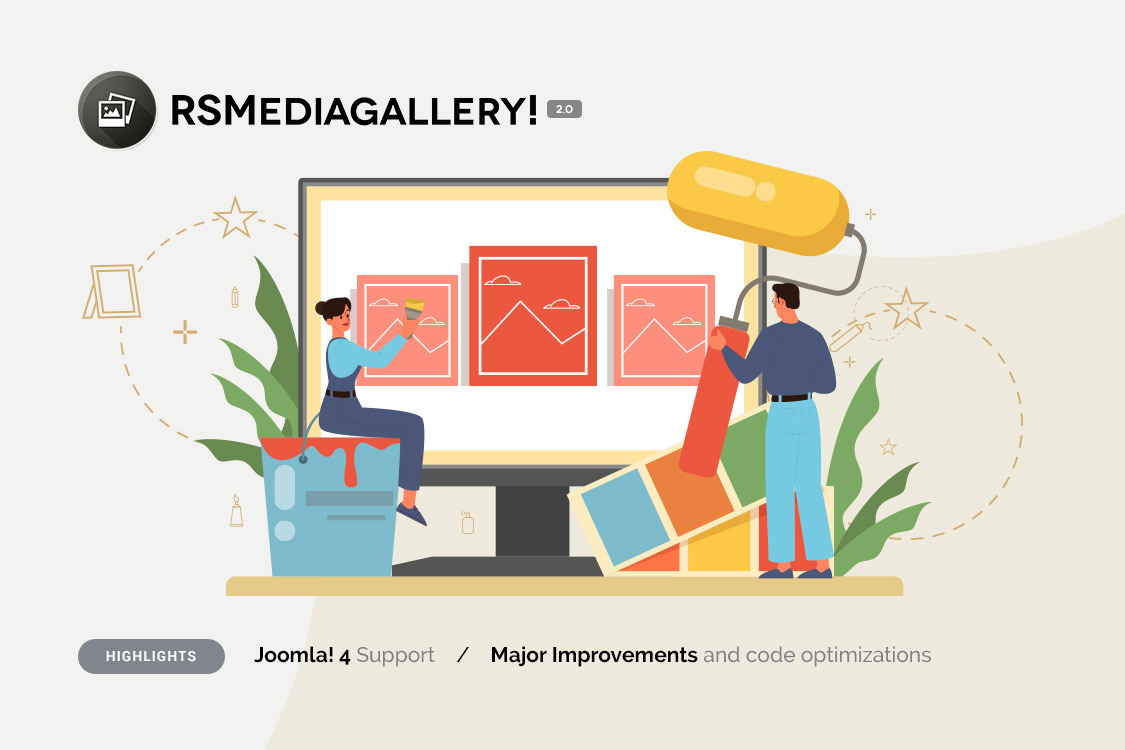 RSMediaGallery!, our Joomla! image management extension, has been improved and updated in order to support the new Joomla! 4 version.
Joomla! 4.0 Compatibility
Although there is no stable version released yet, we are continuing the new Joomla! 4 compatibility streak and updated our RSMediaGallery! component in order to support this new version of Joomla!.
We do not advise to update your live sites to Joomla! 4, the current compatibility is only meant for tests on your development servers.
Improvements
• The dashboard design has been improved and now it is cleaner, more modern and more intuitive.

• In the new version of the component, the tag selection field has been improved and it allows you to select your desired tags from a dropdown list. Until now, this option was not available and you had to know the name of the tag you wanted to include.

• Also, the Gallery menu item has been enriched with a new functionality: searching images by tags.
This option can be enabled from the "Filtering" section of the RSMediaGallery! Configuration page.

• RSMediaGallery! 2.0 has a native responsive design(in the old version you had to choose whether the menu item should be responsive or not), making your galleries or albums look better on all devices, no matter the screen resolution.

• Also, RSMediaGallery! received various code enhancements, like tidying up the source code and updating certain areas for a more consistent display to benefit both Joomla! 3 and Joomla! 4.
Note: Please make sure that you are updating all the component plugins when installing the latest version of the component.
Starting with this new version of RSMediaGallery!, the Slideshow Module will be removed from the Downloads section of the component.
This can be easily replaced by the other slideshow modules which will continue to be available:
Advanced Slideshow Module
,
Responsive Slider Module
or
Responsive Slideshow Module
.
---