Plugin - Akismet (Spam protection)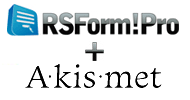 The RSForm!Pro - Akismet Plugin allows you to filter submissions through the Akismet service, thus offering a non-invasive method of detection spam submissions.
With this integration you will be able to block potential spam submissions to your form via the all popular Akismet service.

Tutorial - Using RSForm!Pro together with Akismet
The RSForm!Pro - Akismet Plugin is a Joomla! plugin that once installed and enabled will allow you to filter out spam submissions without any actual imput from your users (like captcha methods for example).
Technical requirements
In order to make the plugin work, you need:
Joomla! 3.x
Latest revision of RSForm! Pro
an active Akismet account
Getting the RSForm!Pro - Akismet plugin
In order to download the RSForm!Pro - Akismet Plugin you must have at least one active subscription of RSForm!Pro. Simply go to the My Downloads section of our website (You must be logged-in in order to see the My Downloads section).
In the list of downloads go to the RSForm!Pro section, and download the RSForm!Pro - Akismet plugin.
Installing the plugin
Once you have downloaded the RSForm!Pro - Akismet Plugin, you can install it using the default Joomla! installer as shown in the image

The RSForm!Pro Akismet Plugin should auto-publish itself, but if that doesn't happen, you can go to Extensions / Plugin Manager and enable it. The plugin is located in the System group and you can identify it by the name of "System - RSForm!Pro Akismet"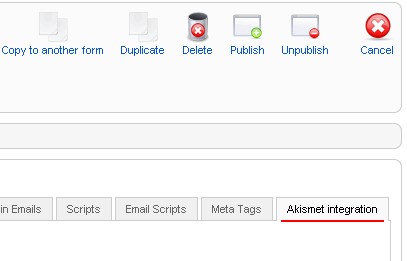 Enabling the integration
Once you have enabled the plugin, go to RSForm!Pro » Manage Forms and edit the form where you want to use the RSForm!Pro - Akismet Plugin. You will notice that one more tab has appeared.
In order for the plugin to work you will have to enable it from Extensions > Plugin Manager, enter the Akismet API key in Components > RSForm!Pro > Configuration > Akismet. The API key can be generated here.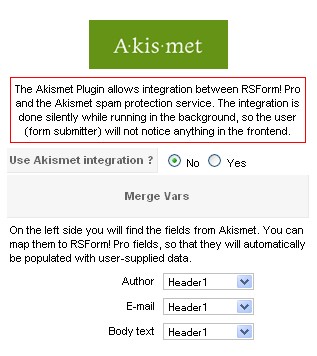 After selecting your desired form, you will have to:
go to the Akismet Integration tab (Components > RSForm!Pro > Form Manager > edit a form) and enable the integration for the form
Akismet has three basic areas that can be checked against spam patterns: Author, Email and Body text. You can map any of your RSform!Pro fields to these. The spam verifications will be made against the values filled in these particular fields.
Video tutorial:
RSForm!Pro integration with Akismet
---
6 persons found this article helpful.
---
You Should Also Read