Event categories module
The RSEvents!Pro Event categories module allows you to list your configured event categories. Clicking on a category will display all events from that particular category.
The module can be downloaded from within the rsjoomla.com > My downloads section. Note that you need to have an active RSEvents!Pro license to be able to do this. To learn how to install the module, please refer to the installation tutorial.
Module specific configuration options: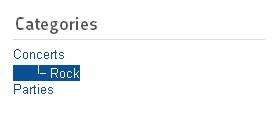 Module Class Suffix: the CSS class specified here will be applied to the module container. This allows control to individual module styling.
Custom Itemid: links that will be posted via this module will incorporate the item id parameter as specified here.
Limit: how many categories will be displayed in the module. Leave 0 (zero) for all.
Open links in: you can specify how links posted in this module will be opened: new or current page.
Show events counter: you can display the number of events that have been created with this category
Unlink empty categories: if a category is empty you can disable the link generated for that category
You Should Also Read