Plugin - Google Analytics (Add a tracking code to your forms)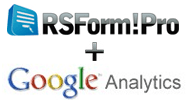 You are able to track how many visitors viewed/submitted the form.
Tutorial - Using RSForm!Pro - Google Analytics plugin
The RSForm!Pro - Google Analytics Plugin is a Joomla! plugin that once installed and enabled will add your google analytics code to your RSForm!Pro installation. In this tutorial, you will learn how to install and use RSForm!Pro - Google Analytics the plugin.
Getting the RSForm!Pro - Google Analytics plugin
In order to download the RSForm!Pro - Google Analytics plugin you must have at least one active code of RSForm!Pro. Simply go to the My Downloads section of our website (you must be logged-in in order to see the My Downloads section).
In the list of downloads go to the RSForm!Pro section, and download the file called Google Analytics Plugin
Installing the plugin
Once you have downloaded the RSForm!Pro - Google Analytics plugin, you can install it using the default Joomla! installer (Extensions > Manage > Install > Upload Package File).

The plugin should auto-publish itself, but if that doesn't happen, you can go to Extensions > Plugins and enable it. The plugin is located in the System group and you can identify it by the name of "System - RSForm! Pro Google Analytics"
Configuring the Google Analytics Plugin

After installing and enabling the plugin, go to Components > RSForm!Pro > Configuration. You will notice that a new tab named Google Analytics appeared. Here you will have to enter your Google Analytics ID provided by Google Analytics.
Using the Google Analytics plugin
Once you have configured the plugin correctly , the Google analytics code will be placed after the form layout and also on the Thank you page.
---
17 persons found this article helpful.
---
You Should Also Read