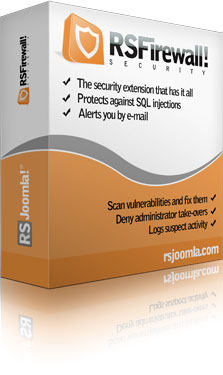 RSFirewall! is the most advanced Joomla! security service that you can use to protect your Joomla! website from intrusions and hacker attacks. RSFirewall! is backed up by a team of experts that are trained to be always up to date with the latest known vulnerabilities and security updates, thus making RSFirewall! the best choice in keeping your Joomla! website safe.
RSFirewall! offers a complete set of tools that you can use to avoid being hacked. The extension allows you to perform a complete website scan, to see the weak points and to get instructions on how to improve the security status of your Joomla! website.
If you use RSFirewall!, please post a rating and a review at the Joomla! Extensions Directory

* The final price may differ depending on the actual VAT rate applied to your order.
* The extension(s) will continue to work even after the subscription period will expire. The subscription refers to support & downloads only.
Joomla! Compatibility



Not sure if RSFirewall! will work on your server?
Before purchasing, download and install RSTester! for Joomla! 2.5 / 3.x or for Joomla! 1.5 — this extension will check if your server is compatible with our extensions.
Available Language Packs:
We only release our extensions in English. All other language packs are donated by the community. Please note that not all translations may be complete, up to date or correct.
Latest Version:
2.6.3 for Joomla! 2.5 & 3.x
R44 for Joomla! 1.5
Stay protected through SQL, XSS and LFI filters
Why risk the integrity of your site when you can increase the security level with a few simple clicks ? SQL, PHP, LFI, XSS, known malware - RSFirewall! will offer all the protection you need. It will even verify uploaded files (extensions, multiple extensions, banned extensions and malware patterns).
Harden your website's security
The RSFirewall! System Scanner is an on-demand scanner that checks file permissions, checks for file changes and if you have the latest version of Joomla! and RSFirewall!. This is an essential tool that will help you identify potential security liabilities.
Keep track of attackers
RSFirewall! provides a built in system log, thus you can easily see if security relevant actions have been performed. Timing is esential when deleaing with security issues - you can even set RSFirewall! to send a email notification if a potential threat level is reached.
Password-protect your administrator folder
Why open up the Joomla! administrator panel for everyone ? With RSFirewall! you can add an additional back-end password. This will be displayed before the usual Joomla! administrator login page.
Block brute-force attacks
Automated scripts can test for various combinations of users and passwords. Without a specialized protection, it is just a matter of time until your account will be discovered. This is why RSFirewall! introduces a captcha image for your administrator panel after a few unsuccessful attempts. If more drastic measures are required, you can even block individual IPs or entire IP classes.
Lockdown your site
Once your site is up and ready to go, why not preserver its current state as much as possible ? RSFirewall! offers a lockdown mode that prevents new installations or the creation of other users with administrator rights.
Database check
RSFirewall! also incorporate a small, but useful feature that is designed to test each of your tables. If something out-of-place is detected it will attempt to automatically fix them via standard MySQL fix/optimize functions.
Keep up to date
Alerts are sent whenever new releases for RSFirewall! and Joomla! are available. This is an important factor that needs to be taken into consideration. Whenever new releases are available, a report is published - acting like an open invitation for hackers to exploit your non-updated Joomla! site. RSFirewall! also incorporates a predefined RSS feeds list that directly relate to Joomla! security news.
RSFirewall! - the most advanced security extension for Joomla!® - Screenshots
Important!
Please make sure you are running the latest versions of Joomla! (2.5, 3.x). Our extensions are developed and tested to work only with the latest versions of Joomla!
The minimum requirements to run RSFirewall! are:
Joomla! 2.5 or 3.x
PHP 5.2
MySQL 5.x
If you are running Microsoft IIS 7, make sure you support MSSQL 10.50.1600.1+
We recommend:
Joomla! 2.5 or 3.x
PHP 5.3
MySQL 5.x
Not sure if RSFirewall! will work on your server?
Before purchasing, download an install RSTester! for Joomla! 2.5 / 3.x or for Joomla! 1.5 — this extension will check if your server is compatible with our extensions.
Testimonials
Tingo123
Great Extension! Great customer supports every time and Joomla Fire Wall! Is like all their other products very high quality and very powerful
livvvving
their products are the best, but their support is incredible! Extremely helpful and fast to fix problems, even if they're ones I caused! I can't recommend them highly enough
bryan
You may not think you need this extension, but when your site is hacked or you have to deal with spam comments, you'll change your mind! It's easy to install and configure, and works exactly as advertised. I include it on every site I manage.
jdmorris
Easy to install and set up, despite the complexity of the extension. I have peace of mind knowing that my site is protected. I'd never run my computer without an anti-virus software, nor will I leave my site exposed. Definitely the best Firewall for Joomla that's out there! Great pricing this...
robertbul
We use RSFirewall! in all sites we are supporting. This is very useful and powerful component, which is mandatory for every commercial site. We use other RSJoomla products too. All products of this company have perfect technical and commercial support. Thank you, colleagues!