Joomla!® Extensions, Modules and Plugins
Our Joomla! experts provide the highest quality of Joomla! extensions, modules and plugins for your Joomla! 3.x & 2.5 websites in different languages.
Don't forget to check out the administrator and front-end demo versions of the above Joomla! extensions.
Latest updates
Latest blog entries
Easter 2014 Promotion
It is already a tradition at RSJoomla! to celebrate holidays and we have been preparing some special gifts for you. This year, the Easter bunny comes with a 30% discount for all our templates and components.
The 30% discount is available for one week , between 18-25 April 2014. This means you can have any extension or template you wish and we are happy to make this possible.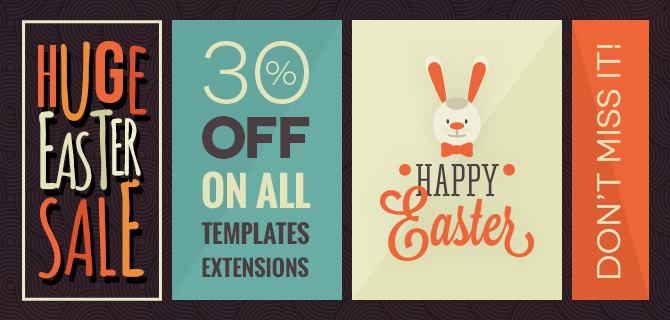 The entire team at RSJoomla! wishes you a Happy Easter! with your friends or family. Happy holidays, dear friends!
RSEvents!Pro's Slider module is now responsive!

RSEvents!Pro's Slider module has just received an important update - the Responsive layout.
Testimonials

What our customers say about RSSeo!
stephencarterJust wanted to say that both RSEvents and RSSeo work very well with my website. RSSeo has helped me find out things that were lacking seo wise on my Joomla! website and how to solve them. It beats any other SEF extension when it comes to page management. Definitely recommend.
siddalljEasy to setup, clearly explains what you need to do get your meta tags and descriptions better.
Awesome that you can add your competitors and see how they compare to you.
Support is good too, answered my questions in less than 12 hours.
Highly recommended! Will be using it on all my sites from now on!

What our customers say about RSMembership!
rigbeeFantastic support from Andrei at RS Joomla! helped me use RS Membership to set up a payment system for membership purchases/renewals for an association, as well as selling "memberships" to workshops. Client was very happy, and the support tickets were responded to quickly and helpfully, allowing me to make all required modifications.
jo_wheatThis is exactly what I needed. A straight-forward component that allowed me to sell subscriptions to my site's content. Super simple to install. Very easy to configure. Does just what I need, and heaps more stuff that I didn't even think I needed (but may explore now... coupons, add-ons, auto-renewals).
Worth every penny. And, as others have mentioned, the support is very good. As is the documentation.