Joomla!® Extensions, Modules and Plugins
Our Joomla! experts provide the highest quality of Joomla! extensions, modules and plugins for your Joomla! 3.x & 2.5 websites in different languages.
Don't forget to check out the administrator and front-end demo versions of the above Joomla! extensions.
Latest updates
Latest blog entries
Easter 2014 Promotion
It is already a tradition at RSJoomla! to celebrate holidays and we have been preparing some special gifts for you. This year, the Easter bunny comes with a 30% discount for all our templates and components.
The 30% discount is available for one week , between 18-25 April 2014. This means you can have any extension or template you wish and we are happy to make this possible.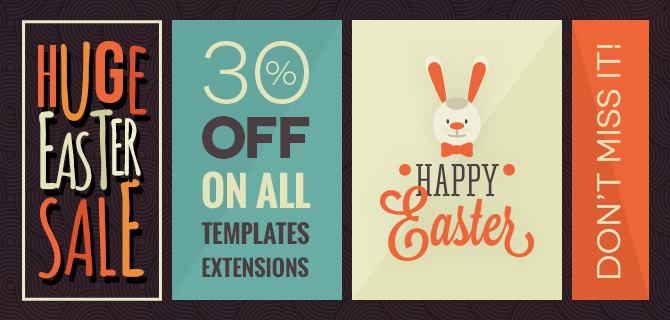 The entire team at RSJoomla! wishes you a Happy Easter! with your friends or family. Happy holidays, dear friends!
RSEvents!Pro's Slider module is now responsive!

RSEvents!Pro's Slider module has just received an important update - the Responsive layout.
Testimonials

What our customers say about RSMail!
pixelstextEasy to install and customize. Does what I need and no less.
And in case you need support: also excellent!
jimbosunI really enjoy this component. I literally had a list imported and a message sent within an hour.

Highly recommended!

What our customers say about RSFeedback!
rbraatA good component, easily accessible for users to give feedback on any kind of subject (categories you specify) you want. I like the free form, users don't need to fill out a standard form with lots of fields, they can just write what they think. Also very nice that other users can see all feedbacks and give votes to them, so you can see very easy which feedback is relevant.
Because off the permission system, most maintenance can be done in the front-end.