Joomla!® Extensions, Modules and Plugins
Our Joomla! experts provide the highest quality of Joomla! extensions, modules and plugins for your Joomla! 3.x & 2.5 websites in different languages.
Don't forget to check out the administrator and front-end demo versions of the above Joomla! extensions.
Latest updates
Latest blog entries
Easter 2014 Promotion
It is already a tradition at RSJoomla! to celebrate holidays and we have been preparing some special gifts for you. This year, the Easter bunny comes with a 30% discount for all our templates and components.
The 30% discount is available for one week , between 18-25 April 2014. This means you can have any extension or template you wish and we are happy to make this possible.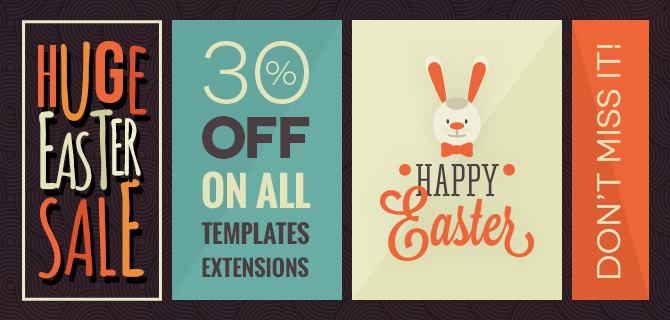 The entire team at RSJoomla! wishes you a Happy Easter! with your friends or family. Happy holidays, dear friends!
RSEvents!Pro's Slider module is now responsive!

RSEvents!Pro's Slider module has just received an important update - the Responsive layout.
Testimonials

What our customers say about RSSearch!
shakkyI tried to find a free search module for my joomla site. There are not too many options. RSSearch is what I need. Also I had a great support from RS Joomla Team. Thanks!

What our customers say about RSMediaGallery!
GianLucaSI needed a way to manage a large base of images, and publish different slideshows based on a selection, so for me the tagging feature is a real winner.
I must add that I have purchased some other extensions from RSJ, and I am very satisfied. Support is excellent.
afeppleI have just installed RSGALLERY and I find it is a fantastic tool. It is easy to handle and looks fantastic on my site.
Also, the support I received when tackling an issue was fabulous and extremely fast and efficient. Thanks a lot guys!